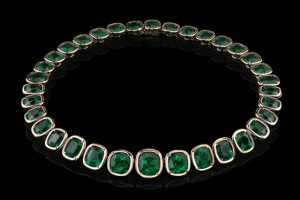 Brangelina Split – Jolie's Jewels?
The impending divorce of Angelina Jolie and Brad Pitt has made international headlines as of late. The celebrity power couple was perhaps most renowned for their blockbuster movies, humanitarian efforts, ever-expanding family and love for design. While Pitt has long been enamored with all things architecture, both have expressed a deep interest in the art of jewelry design, and have even worked with leading jewelry houses to design unique gifts for one another.
Now that Brangelina has officially split, many are speculating as to what will happen to some of the more notable pieces in the couple's enviable jewelry collection, including Jolie's sparkly statement pieces.
Fate of Jolie-Pitt jewelry collection
For the past six years, Jolie has collaborated with the distinguished Beverly Hills-based jeweler Robert Procop, creating luxurious baubles for movies and red carpet events. In 2010, the award-winning actress partnered with Procop to create the Style of Jolie jewelry collection, which features glamorous trinkets ranging from $4,000 to more than seven figures. Proceeds from the jewels – which include a stunning selection of bracelets, earrings and necklaces worn by Jolie at movie premieres—benefit the star's charity, the Education Partnership for Children of Conflict.
Jolie, who was extremely involved in creating the collection, made sure that her favorite stones and colors took center stage.  For example, an emerald necklace from The Style of Jolie boasts 44 cushion-cut emeralds totaling more than 103 carats set in 18-karat yellow gold. Other pieces feature black spinels and amber-colored citrines.
Known for her bold, strong statement pieces, Jolie favored a minimalist approach to accessorizing her red carpet attire. At the Academy Awards, her earlobes dazzled with white diamond earring set in yellow gold, totaling 42 carats, while Pitt donned cuff links and tuxedo buttons in 18-karat yellow gold and tablet-cut white diamonds.
According to the divorce papers filed on September 19, Jolie has asked to keep her "miscellaneous jewelry and other personal effects" – including her white diamond engagement ring valued at $250,000.  In the event that Jolie decides to auction off any of her jewels, experts believe that interest will be intense given the provenance (the documented history and previous owner of the jewels).
In a society that is seemingly celebrity-obsessed, pieces in the Jolie-Pitt jewelry collection may garner 20 times their estimated worth.
Create your own glamorous jewelry style
While 42-carat diamond earrings may be out of your reach, you don't need to drop a fortune to recreate Jolie's sophisticated look. For the ultimate, Oscar-worthy look for less, visit F. Silverman where you can shop for gorgeous jewelry crafted by Norman Covan, Charles Krypell and other leading designers.
From precious gemstones to exquisite gold jewelry, you are sure to discover an eye-catching piece that suits your style and budget. Visit our Woodcliff Lake, New Jersey showroom to get the celebrity jewelry style you admire.