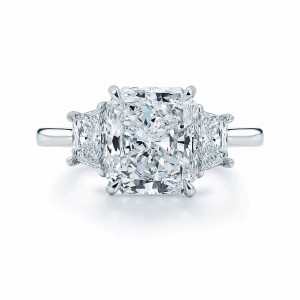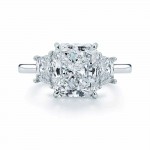 The evolution of engagement rings
The one constant in fashion is that it's always changing; and just like haute couture style, jewelry trends also evolve and come back years later with a fresh, modern take. Take the style evolution of engagement rings – from minimalist solitaires to filigree mounts and the now popular "Princess cut."
When you look at engagement ring trends and how they have changed over the past century, it's obvious that some styles and settings are here to stay.
1920s
By the 1920s, the days of the minimalist solitaire had faded. Women became enamored with lace and white on white fashion clothing, which is reflected in the engagement rings of this decade. The roaring 20s were all about white platinum rings adorned with delicate lace-like detail framing a round center stone.
1930s
Art Deco was king during the 30s, characterized by bold geometric patterns, vibrant colors and extravagant ornamentation. Engagement rings of this era were geometric and featured layers of tiny diamonds throughout.
1940s
White gold became extremely fashionable in the 1940s and was the metal of choice for engagement rings. Intricate filigree designs were also popular during this decade.
1950s
A decade later, white gold fell out of favor, and yellow and rose gold became the norm for engagement ring bands, which were often made with elegant wirework featuring round-cut diamonds.
1960s
While the 50s were conservative and restrained, the 60s took a foray into fantasy. Simple round-cut diamonds were out and fancy cuts took their place. Engagement rings during this exciting decade had pear-shaped and marquis diamonds and dazzled with "Emerald cuts." Platinum transplanted gold as the preferred metal.
1970s
70's fashion may have been dominated by fringe and suede, but engagement rings remained relatively conservative. Channel set rings, in which small accent diamonds are set between two bands of metal, were all the rage.
1980s
What goes around comes around. The 80s saw a resurgence of the simple round-cut diamond engagement ring, sometimes flanked with baguettes.
1990s
Ten years later and the "Radiant Cut" – a square cut diamond — was trending. Frequently offset by unique triangular side stones, these rings captured the outlandish style of the 90s.
2000s
Though it was created decades earlier, the "Princess Cut" became the favored style of engagement rings by the 2000s. Noted for its dramatic and elegant style, this square or slightly rectangular cut remains a top-seller today.
Diamond engagement rings in Bergen County
Looking for that perfect diamond ring for your bride to be? Contact us  or stop by F. Silverman in Woodcliff Lake, NJ for a wide selection of stunning engagement rings and engagement jewelry crafted by some of the nation's top jewelry designers. Whether she wants something simple and delicate or vintage-inspired, you are sure to find a ring that captures her personality and unique style.