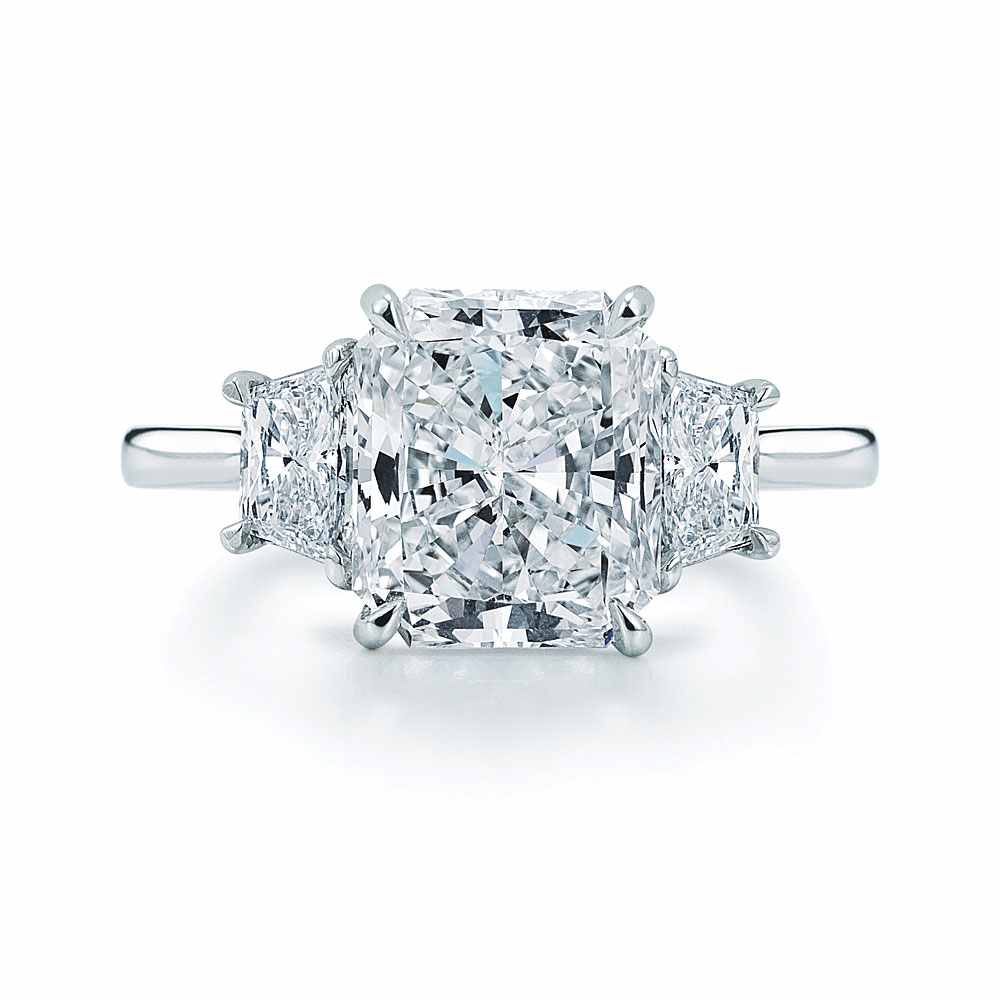 You've found your soul mate, now it's time to find the perfect engagement ring. For centuries, diamonds have been the stone of choice for professing love and unwavering commitment.
F. Silverman has been helping couples select diamond engagement rings for more than two decades, with our expansive vintage, classic and custom collections that are adorned with GIA-certified diamonds.
Conveniently located in Bergen County, New Jersey we feature a wide range of styles – from elegantly refined and heirloom-inspired to modern chic. Get ready to impress your soon-to-be fiancé with a gorgeous ring that captures your personality and her style in a setting she'll adore.
Diamond engagement ring – an eternal symbol of your love
There are several metals to choose from for the engagement ring, including platinum, white gold, rose gold and yellow gold.
Once you've chosen the band for your partner's ring, the next major decision is picking out a quality diamond. Here at F. Silverman's, all diamonds must pass our stringent standards for radiance and brilliance, and our fine jewelry experts are happy to explain the 4 C's of diamonds: cut, color, clarity and carat.
An expertly cut diamond will sparkle and appear fiery at all angles. Not to be confused with shape, the cut refers to the stone's facets and angles and how well it reflects light. A cut that is too shallow or too deep will have a dull, lackluster appearance.
Cut, Clarity, Carats
Choosing the diamond shape really comes down to your loved one's personal preference.
We offer a wide selection of including traditional and trending cuts:
Round Brilliant
Cushion
Oval
Pear
Emerald
Asscher
Radiant
Princess
Note that some shapes like the pear are more suited for a solitaire setting, while the classic princess and round shape look best as centerpieces in a multi-stone ring.
For most of our customers, seeing a difference between colorless (the rarest and most costly) and virtually colorless diamonds is nearly impossible. The hue is graded on a scale from D (colorless) to Z (light yellow).
The clarity of a diamond, which is based on its imperfections or inclusions, is also measured on a scale. Look for diamonds with no visible imperfections to the naked eye, which are generally in the SI1 and SI2 range.
The Wedding Report says that average diamond engagement ring weighs in at 1.18 carats. And while this sounds impressive, remember that carats only measure a diamond's weight and alone may not accurately convey the stone's size, which is affected by the cut.
Bergen County, NJ fine jewelers
Whether your bride-to-be is a traditional romantic or a fashion-forward gal, we are confident you'll find the perfect symbol of your love with our helpful assistance and choice of stunning engagement rings by leading designers. We also have an experienced in-house jeweler who can create a custom diamond engagement ring that is sure to dazzle your mate.
Start browsing our amazing selection of diamond engagement rings in Bergen County; our Woodcliff Lake store will make the entire process effortless!