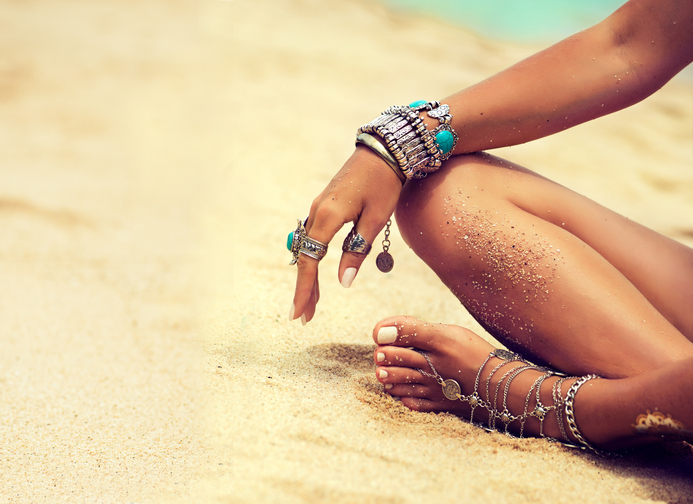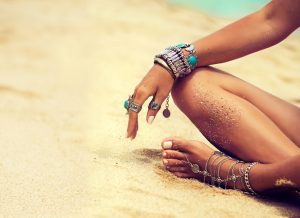 How to wear jewelry at the beach
You've been dreaming about your summer beach vacation all year. And whether you're headed to sunny Mexico, the beaches of the Caribbean, or Florida, you'll want to look your best. This season has some exciting trends in swimsuits, sunglasses, and beach totes, but don't forget to update your jewelry collection too. Wearing jewelry at the beach requires a delicate balance of aesthetics and practicality. Here's what you need to know.
Do choose dainty pieces that move with you
No matter how careful you are to apply sunscreen (and you should, every two hours), a day at the beach will inevitably result in some tan lines. Avoid chunky jewelry and any jewelry that doesn't move when you do. Otherwise, you'll wear the imprint of your beachy jewelry for weeks. Instead, look for dainty, delicate pieces, like necklaces and anklets with thin chains and small jewels.
Don't wear pieces that will tarnish easily
You've put a lot of effort into building and curating your prized jewelry collection. Take good care of it by choosing the pieces you'll wear to the beach in light of their potential to tarnish. The salt water isn't always kind to certain metals, and neither is sweaty skin. So avoid wearing jewelry made from metals like copper, sterling silver, and pewter. Instead, look for pieces made from rose gold, white gold, regular gold, or platinum.
Do choose gemstones with ocean-inspired colors
Certain gemstones embody the vibe of the beach better than others. Turquoise and green tourmaline gems are both perfect examples of gemstones that look right at home on the beach. When choosing blue gemstones, select those with a lighter color, rather than a deeper blue. One great choice is blue aquamarine, which belongs to the beryl family. Other light blue gemstones include blue apatite and blue chalcedony, which takes on a dreamy, polished look.
Don't overdo your accessorizing
A day on a sun-soaked beach calls for a vastly different approach than a night out at the club. On the beach, less is more. Take a minimalist approach to your accessorizing, and choose just two pieces. (Ok, maybe three.) Choose earrings in a color and style that will match your footwear to help give your outfit a more cohesive, put-together look. Then, choose a statement ring or a delicate necklace. Alternatively, consider purchasing a beachy anklet to create a bohemian casual look.
Do pick up the latest looks in florals
Florals aren't just for spring. This summer, model Alessandra Ambrosio has popularized floral and bouquet jewelry pieces. Look for florals to make their appearance on feminine rings and flirty earrings.
Do find the latest trends and timeless classics at F. Silverman Jewelers
F. Silverman Jewelers in Bergen County, New Jersey has an extensive collection of fine and fashion jewelry. We carry pieces for formal occasions, such as weddings, and informal events, such as a day at the beach. Stop by our shop in Woodcliff Lake today or give us a call at 201.930.8883 if you have any questions. Ask us about our custom jewelry design and fabrication services!
Additional resources:
Vogue, Jewelry Trends for Summer 2018: flowers and bouquets, http://www.vogue.it/en/fashion/jewellery-watches/2018/03/29/jewelry-trends-for-summer-2018-flowers-and-bouquets/?refresh_ce=
Who What Wear, The Only Jewelry You Should Wear to the Beach, https://www.whowhatwear.com/best-jewelry-for-the-beach