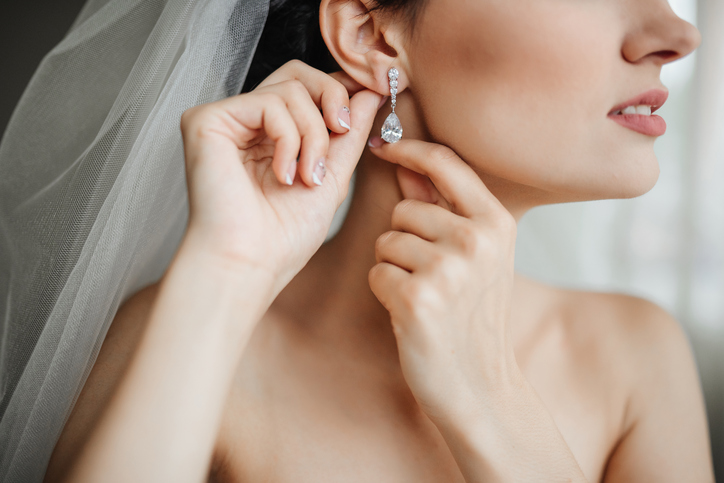 Congratulations! You've set the date, picked your wedding dress, and now it's time to shop for bridal jewelry. It is one of the most exciting steps in the wedding planning process—it adds the finishing touches to your look and pulls everything together.
Your jewelry might make a bold statement or a dainty, timeless addition to your look, depending on your personal style. So, whether you're shopping for a diamond necklace, chandelier earrings, a gemstone bracelet, or all three, here's how to choose the perfect pieces for your special day.
Pick pieces that complement your wedding dress
For a timeless look, shop for pieces that complement the style of your wedding dress. For example, if your dress is simple and elegant, consider making a dramatic statement with a stunning gemstone necklace. Meanwhile, if you're wearing a more detailed dress – with lace and tulle, for example — keep your jewelry simple with a classic pearl necklace or diamond earrings.
Your bridal jewelry should reflect your personal style, so don't be afraid to get creative. Of course, not everything needs to match exactly, but your jewelry and dress should complement each other. Striking the perfect balance can make all the difference in your wedding day look.
For the perfect bridal jewelry in Upper Saddle River, check out the exquisite selection of earrings, necklaces, and more at F. Silverman Jewelers.
Consider your wedding dress neckline
If you're shopping for a bridal necklace, be sure to consider the neckline of your dress. You want to pick something that fits between your neckline and your wedding dress without overlapping.
To get an idea of the best necklaces for your neckline, here's some style inspiration:
Strapless necklines: Strapless dresses leave a gap around the collarbone, so it's essential to choose a piece that accentuates your features. Try wearing a choker or shorter necklace that hits the middle of your chest.
Sweetheart necklines: Medium-length pendants necklaces are the perfect accents for sweetheart necklaces. Since these necklines have a more delicate look, opt for simple, timeless pieces to complete the look.
Halter necklines: Most halter necklines don't leave room for necklaces, so consider skipping the necklace. Instead, elevate your wedding look with beautiful earrings and a stunning bracelet.
Remember that less is more
Even though it might be tempting to go big with your bridal jewelry, it's best to keep it simple. At the end of the day, you want the focus to be on you, not your jewelry. To complete your look, make sure all of your jewelry is ready by the time you're preparing for final fittings. You can try everything on with your wedding dress (and, ideally, your hairstyle and makeup) to see how it all works together. If one of your accessories steals the show, consider swapping it out for a more minimal piece.
Choose the perfect bridal jewelry with F. Silverman Jewelers
From gorgeous diamond earrings to one-of-a-kind bracelets and pendants, you can find the perfect bridal jewelry in Montvale, NJ, at F. Silverman Jewelers. Our expert team has decades of experience, and we can help you choose a stunning statement piece for your big day. Contact us today or visit our showroom in Bergen County, New Jersey, to explore our collection.