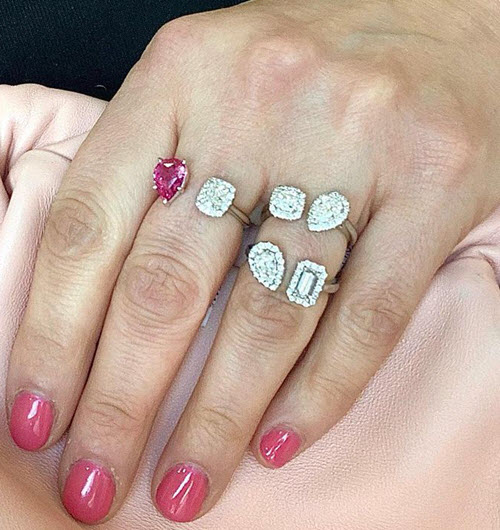 You've finally found your soulmate and you're ready to take the next step. You're envisioning a perfect life together with your special someone, but first, you need to find the perfect ring. It can be tricky to find exactly the right stone and the right setting – but who says there has to be only one stone? Introducing the toi et moi engagement ring—a trend with historic roots that is becoming increasingly popular both in and out of A-list circles.
Toi et Moi Ring Meaning
A toi et moi ring consists of two gemstones that are set right next to each other so that they are touching. Alternatively, there may be a slight distance between them. The name is French and it means "you and me."
There are two main reasons why the toi et moi ring is enjoying a resurgence of popularity. First, the toi et moi ring is a stunningly beautiful work of expert craftsmanship. Its aesthetic appeal is undeniable, and furthermore, there are virtually limitless ways in which a modern toi et moi ring can be customized.
Second, the meaning of the toi et moi engagement ring is particularly romantic. It represents the coming together of two people who have professed their love and commitment to each other. Giving your special someone a toi et moi wedding ring is a heartfelt gesture that they will cherish.

Are Toi et Moi Rings A New Trend?
The toi et moi engagement ring is coming back into style, but it isn't a new trend. It's actually a centuries-old tradition. The toi et moi style was first popularized in 1796. Napoleon Bonaparte proposed to Josephine de Beauharnais with the aid of a toi et moi ring when he was still just a soldier in the French army. The lovers married three weeks later. This famous ring, which recently sold at auction for close to $1 million, features a blue sapphire and a diamond set in gold. Both gems are pear-shaped.
Napoleon and Josephine aren't the only famous couple to boast a toi et moi wedding ring. John F. Kennedy Jr. proposed to Jackie with a 2.84-carat emerald-cut emerald paired with a stunning 2.88-carat emerald-cut diamond, surrounded by diamond and emerald accent stones. More recently, Ariana Grande, Kylie Jenner, Emily Ratajkowski, and Megan Fox received toi et moi engagement rings.
Exploring The Different Types Of Toi et Moi Engagement Rings
One of the advantages of a toi et moi engagement ring is the endless customization options. In fact, you could even create your own custom toi et moi ring with the birthstones of you and your partner. A toi et moi diamond ring is particularly popular, consisting of a diamond and another precious gemstone.
Other possibilities are a ruby, pearl, sapphire, or emerald toi et moi ring. As an alternative to choosing birthstones, consider symbolism. For instance, a diamond symbolizes love, while a ruby symbolizes devotion and passion.
Find The Perfect Toi et Moi Engagement Ring At F. Silverman
A toi et moi engagement ring is both trendy and timeless, providing the perfect balance of elegance, class, and eye-catching beauty. You can find the right toi et moi diamond ring for your special someone at F. Silverman Jewelers in Bergen County, New Jersey. At our Woodcliff Lake store, we offer an extensive selection of beautiful pieces that your partner will cherish.
If you don't find exactly the right ring, we can create a custom toi et moi ring just for you, thanks to our expert craftsmanship and in-depth knowledge of jewelry-making processes. Swing by our shop today or contact us with any inquiries!