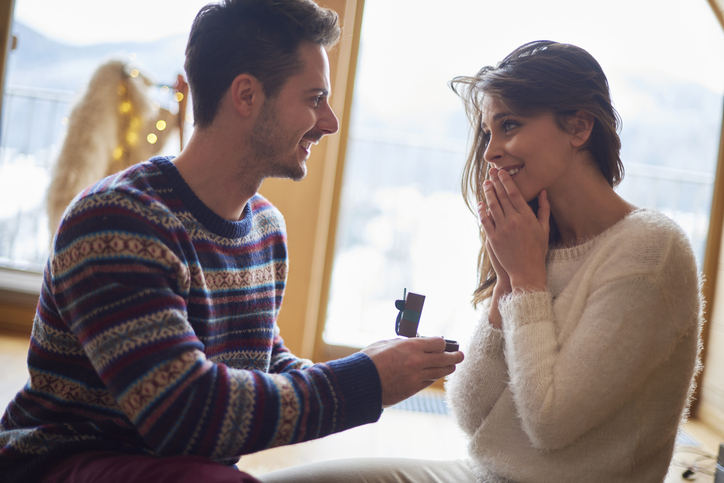 Are you preparing to get down on one knee and pop the big question? Congratulations! Your proposal is a big moment, and a little preparation can make it extra magical.
Even though asking your significant other if they'll marry you is the most important part, there's a lot more to it. You want to express all the feelings in your heart and show them why you know that they are the one. But how do you put all of those feelings into words and make sure you know what to say when the moment comes?
Here's how to make your proposal meaningful and memorable so you can both cherish the moment for years to come.
What did you feel when you first met?
Just like any important speech, your proposal should have a beginning, middle, and end. Of course, your proposal is a lot more personal, and your script should sound authentic and sincere.
Try starting your proposal speech by telling your significant other how you felt when you first met—or when you realized you were in love with them. When did the "aha" moment hit you? Maybe you realized you were meant for each other the moment you met or when you spent your first weekend together.
You might say something like, "The time you [blank], I knew we were meant to be."
What do you love most about them?
Next, think about their best qualities and how much you appreciate them. What is it about your significant other that inspires you? Is it their patience and kindness to others? Their sense of humor? Telling your significant other how much you admire them will show them that you love them for all the right reasons.
What does your future look like together?
Marriage is a commitment to spend the rest of your lives together. Now is the time to talk about the things that are important to both of you and what lies ahead. Does it involve kids, sharing adventures together, or getting to know each other on a deeper level?
By touching on your shared goals and values, you'll emphasize that you're a perfect match. It's also the perfect lead-in to the words they've been waiting to hear: "Will you marry me?"
Don't forget about the engagement ring
When it's time to get down on one knee, make the moment even more memorable with a stunning engagement ring. Your proposal speech is the perfect build-up to the four words they've been waiting to hear, but a beautiful ring will help your partner remember the moment for the rest of their life.
To make your proposal as magical and unique as your love story, surprise your spouse-to-be with a one-of-a-kind custom engagement ring. Your engagement ring should be just as special as your significant other. The expert jewelers at F. Silverman Jewelers can help you design beautiful custom engagement rings in Upper Saddle River that will fit your significant other's unique taste and style perfectly.
Make your proposal magical with F. Silverman Jewelers
To take your partner's breath away, count on F. Silverman Jewelers for beautiful diamond engagement rings in Upper Saddle River. Our experienced team will help you design your dream engagement ring so you can sweep your partner off their feet. Contact us today or visit our showroom in Bergen County, NJ, to explore our collection.