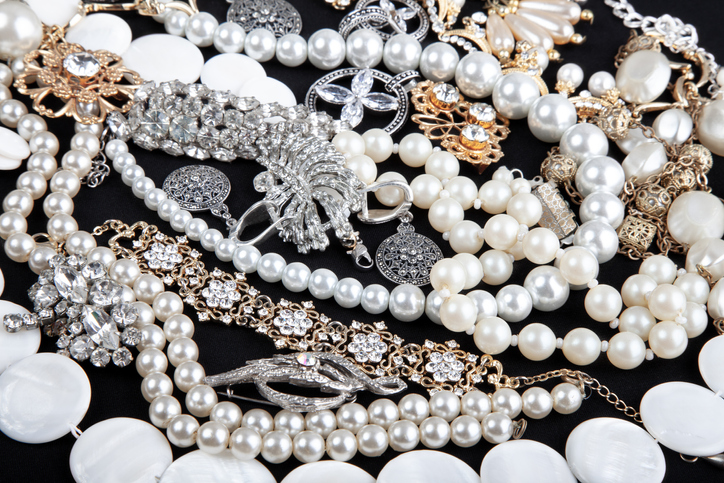 While the term "retro jewelry" can be used to refer to new jewelry that is vintage-inspired, it's also used to refer to jewelry pieces that were created during previous eras, usually the 1940s and 1950s. Jewelry from these periods remain super-popular today. The following is a bit of history on this interesting era in jewelry design and some pointers on how to use retro jewelry to complement your modern aesthetic.
About Retro-Era Jewelry
Retro-era jewelry designers were largely influenced by the changes accompanying World War II. The designs often include a blend of futuristic style with elements from preceding eras, such as bold interpretations of floral motifs of the Victorian era. The design of retro bracelets, for instance, often incorporated geometric styling of tank treads and assembly lines of the war years.
These designs were often made using a variety of metals and gemstones due to cultural and social factors. You'll often find expanses of gold—including yellow gold and rose and green gold alloys—in Retro jewelry, which is indicative of the wartime restrictions on the use of platinum and the rationing of gold for the war effort. Jewelry designers were inventive and often pounded what was left into large, thin sheets so that a bold look, a style of this time, could be created by using only a small amount of the precious metal.
Best Ways to Wear Your Retro Jewelry
Here are three tips on how to incorporate these vintage jewelry pieces into your contemporary look.
1. Wear With a Simple Dress
Let your retro jewels be the star of your otherwise simple yet sophisticated look by dressing up a simple sheath dress or slip dress with several, stacked statement bracelets and rings. Balance out your look with matching earrings or a classic pair of pearl stud earrings.
2. Layer It
Layer pieces to add standout detail to any look, casual or dressy. For instance, layers of retro-era bauble necklaces or bracelets add colorful detail to your favorite cocktail dress or even a dressed-down jeans and blouse combo.
3. Belt It
Enhance a pants-and-top combo by wearing a long retro chain necklace around your waist to add a unique accent to your look.
Retro-Inspired Jewelry in Bergen County, New Jersey
At F. Silverman Jewelry, we feature classic styles including retro-inspired pieces from today's top jewelry designers. The friendly and helpful in-store experts at F. Silverman can help guide your choice and make sure you find the perfect jewelry purchase. Drop into our store in Bergen County, New Jersey and see what's new!
Additional Resources:
Beladora, Retro Jewelry, https://www.beladora.com/2013/01/retro-jewelry-2.
Invaluable, Irresistible Ways to Wear Retro Jewelry, https://www.invaluable.com/blog/irresistible-ways-to-wear-retro-jewelry/.