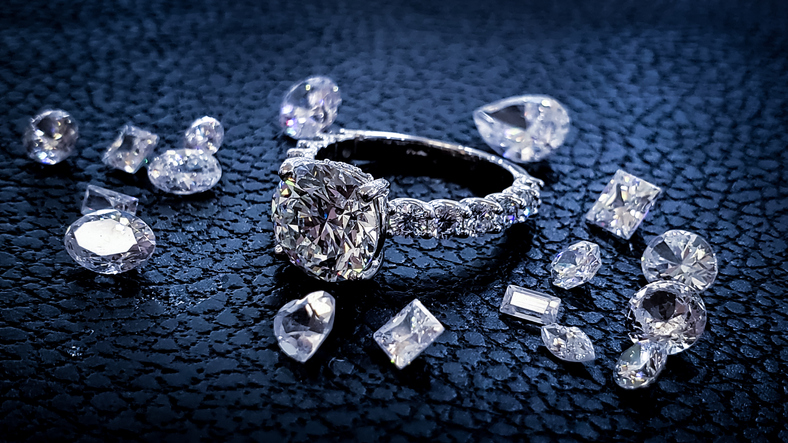 While there are countless brides who've always dreamed of the classic white wedding with a traditional diamond engagement ring, there are also brides who want something a bit different. And that's absolutely wonderful! Your engagement ring should be a reflection of you and your style, even if it goes against the traditional norms.
Don't believe us? Take these unconventional celebrity engagement rings. Each one is more unique and more beautiful than the last:
Mary Kate Olson
The actress and fashion designer might be famous for subtle style, but her engagement ring knows how to steal the show: a vintage Cartier with a blue sapphire halo and floral gallery that was made back in 1953.
Halle Berry
Halle Berry always stands out, and her ring is no exception. No boring diamonds for the Oscar-winner! Instead, she wears a massive square-cut emerald ring with a bright, almost verdant hue and yellow gold setting.
Elizabeth Hurley
Taking inspiration from another famous brit (Princess Diana), Elizabeth Hurley chose a step-cut sapphire engagement ring that's set with two trillion – yes, trillion – diamonds.
Scarlett Johansson
Colin Jost proposed to Scarlett Johansson with a ring almost as lovely as she is: a light brown, oval cut diamond that spans almost the length of her finger to the knuckle. The stone is set in a dark brown, Art-Deco swirl that people are guessing came from the mind of TAFFIN jewelry house.
Fergie
Fergie isn't known for subtlety. Her engagement ring doesn't hide in the shadows either. This stunner features a thick gold band with a star engraving that's set with a colorless round diamond.
Olivia Wilde
Putting a modern spin on the timeless colored-stone trend, Oliva Wilde's ring boasts a massive round diamond haloed by deeply colored emeralds.
Zoe Kravitz
It's no surprise that one-of-a-kind actress Zoe Kravitz has a one-of-a-kind ring. Her antique Georgian engagement ring has diamonds that are embedded in foil, an ancient technique that helps the stone sparkle in the light.
Julia Roberts
Julia Roberts' engagement ring sets off her brown eyes with a gentle green tourmaline gemstone set in a platinum band and finished with diamonds.
Ashlee Simpson
Designed by Neil Lane, Ashlee Simpson's engagement ring is a swirly, whirly piece boasting a massive marquise diamond frame set in both yellow gold and platinum. The rest of the ring? Covered in 140 white diamonds and rubies.
Find Your Perfect Ring at F. Silverman Jewelers
No matter what kind of engagement ring you want, you can find it at F. Silverman Jewelers. We offer a stunning selection of rings in timeless, traditional designs as well as unconventional and one-of-a-kind styles. Our custom jewelry services can also create the ring of your dreams to your exact specifications.
Stop by our Woodcliff Lake showroom or contact us to see our beautiful engagement rings in person or to learn more about what F. Silverman Jewelers can do for you.