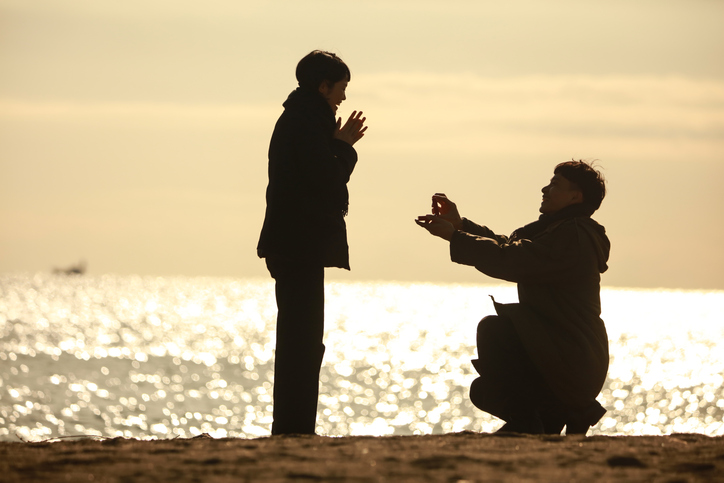 The COVID-19 pandemic has ground much of the world to a near halt. But one thing that hasn't and will never stop? Love.
Though the pandemic has made it hard for people to propose in the way they originally imagined, getting engaged during COVID isn't just possible – it can be wonderful and romantic. If you've been planning on popping the question, you don't have to let the pandemic get in your way.
Use these COVID engagement proposal ideas to inspire your romantic moment.
Romantic Night In
The ultimate in romance is a simple yet stunning night in with your loved one. All you need is a few DIY decorations and flowers to set the mood. Send your partner out of the house on an errand like going grocery shopping or visiting family. Use the time they're away to transform your home into a romantic escape with flowers, candles or holiday lights, music, and their favorite celebratory drink. Imagine their happy, surprised face when they walk in the door to see you on one knee!
The Perfect Photo
Simple is sometimes best, especially when it comes to proposals. Take your loved one on a stroll through your hometown and stop when you come to what you deem to be the perfect backdrop – be it a mural, cityscape, body of water, or a lovely garden. Drop down on one knee and do your thing!
Make this simple proposal even more memorable by hiring a photographer to hide and capture the moment. They can even do a quick photo shoot afterward for even more memories.
Dream Vacation – At Home
COVID has put everyone's travel dreams on hold. But why not bring some of the magic of travel to your home for a proposal? Think of a place you and your partner have always wanted to go, then do some quick decorating and cooking. If you've always wanted to go to Paris, print out a big picture of the Eiffel tower, cook something French, and order in some tasty macaroons. Propose in your own intimate Paris! Then, once the pandemic clears, you could even take your now-fiancé on a romantic trip to the destination.
Picnic in the Park
Parks have been the top socially distanced destination during the pandemic because they allow people to get some fresh air while still staying safe. Make your proposal outdoors and safe by doing it in your local park. Pick out your favorite spot and set out a blanket and fancy picnic. Be really sneaky and hide the ring in the food, or just pull it out of your pocket when the moment feels right.
The Perfect Ring from F. Silverman Jewelers
No engagement is complete without the perfect engagement ring! F. Silverman Jewelers in Bergen County has a stunning collection of diamond rings and wedding bands that are sure to make your loved one smile – and say yes. Stop by our showroom today to see rings in person or chat with one of our friendly, expert jewelers.