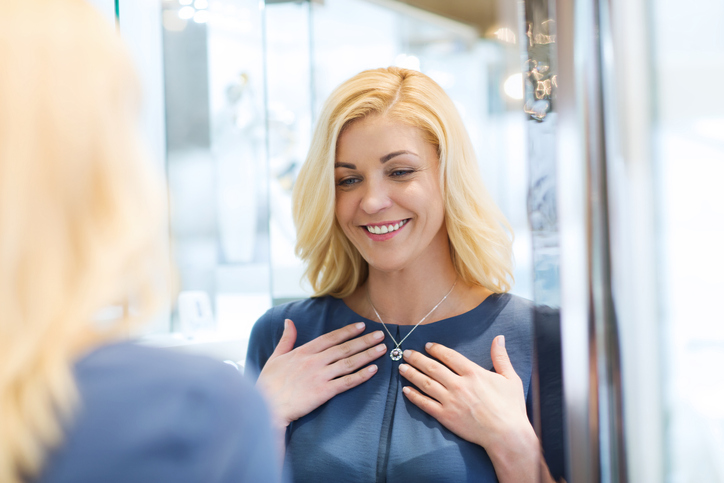 If you're hesitant to shop for fine jewelry online, you're not alone. As it turns out, a majority of consumers prefer to shop for jewelry in store for a number of reasons.
According to a survey by TD Bank completed in 2018, the majority of consumers prefer to shop for jewelry in stores rather than online. According to the poll of 1,021 respondents, 59 percent said they only shop for jewelry in-store, while 34 percent said they generally shop for jewelry in-store. By contrast, only 2 percent said they only shop for jewelry online (including apps), while 5 percent said they mostly shop for jewelry online.
While the Internet is useful for doing research about jewelry and helpful for narrowing down the type of item or items you may be looking for and where to get them, there's nothing like actually seeing fine jewelry in person to get a sense of it.
1. Easier to Gauge Product Quality
When you shop in-store for jewelry, especially items made with precious metals and stones, it's easier to gauge the quality of the product when it's right in front of you. In addition, you can try it on, ask detailed questions, and get a sense of the pieces right away—something that doesn't happen when you browse for fine jewelry on the Internet.
2. Variety of Styles
When you shop for jewelry in person at a store, you generally have a wide variety of products for men, women, and children right at your fingertips. You may come across an item you hadn't considered while browsing jewelry on the Internet by shopping at different brick and mortar stores.
3. Added Services
Many retailers provide additional services, such as engraving, customizable jewelry pieces, financing options for more costly items, event sales as well as clearance items, and gift wrapping.
It's also easy to find out about return policies and ask any other questions about items before you make your special purchase when you shop in-store. This can be especially advantageous if you're looking to buy a significant piece such as an engagement ring, anniversary gift, or a piece that's made with precious gems such as diamonds.
In person, you can examine the items that interest you up close and ask about stone quality, find out which type of cuts of stones and how many carats you'd prefer. You can also examine different pieces and determine which precious metals you favor, how weighty you'd like the piece to be, and determine other details you may want your jewelry item to have—all much easier done in person with the products in front of you.
Shop Fine Jewelry in Bergen County, NJ
Visit F. Silverman in Bergen County, NJ, to browse their outstanding collection of fine jewelry in Woodcliff Lake an array of designs, where you can touch and try on items that interest you before making the decision to buy. The friendly and helpful in-store experts at F. Silverman can help guide you, answer any questions you may have, and ensure that you make the perfect jewelry purchase. Feel free to contact us with any questions.