Tennis bracelets are sophisticated jewelry pieces that can instantly upgrade any look from casual to formal. Whether you're hitting the court or topping off your bridal look, a gorgeous tennis bracelet is a must-have.
The idea of buying the perfect tennis bracelet might seem intimidating. After all, tennis bracelets are timeless and heirloom-worthy pieces, so you want to get it right the first time. Here's how to buy the just-right tennis bracelet for your unique style.
Although tennis bracelets are traditionally set with white diamonds, vibrant gemstones can take your look to the next level. Don't be afraid to mix colorless diamonds with other precious stones, like rubies or emeralds, to add a breathtaking pop of color.
Tennis bracelet styles and settings
When you're shopping for diamond tennis bracelets, you'll have tons of styles and settings to choose from. The most popular diamond settings for tennis bracelets include: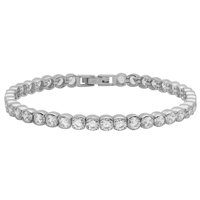 Prong: Prong settings hold diamonds in place while allowing light to reflect off the diamonds. Prongs offer a more secure option than channels, so you won't have to worry about daily wear and tear.
Bezel: Bezel settings are timeless. They're the most secure option, with diamonds firmly secured in place by metal. Although they can withstand wear and tear, they typically obscure light from reaching the diamonds.
Tennis bracelets can also vary depending on the shape of the diamonds. While tennis bracelets feature round-cut diamonds, some bracelets feature more unusual cuts, like princess-cut and emerald-cut diamonds.
How to style tennis bracelets
Whether you're heading to the office or grabbing drinks after work, tennis bracelets are the perfect piece for everyday wear and special occasions. Thanks to their simple design, tennis bracelets are the perfect complement to statement hoops, bold necklaces, and other pieces of jewelry.
If you're going for a chic look, try pairing your tennis bracelet with simple diamond studs. Of course, you can always wear your tennis bracelet solo or stack it with other bracelets for a sophisticated, minimalist look.
Choose F. Silverman Jewelers for breathtaking tennis bracelets
Shopping for the perfect birthday gift? Looking to treat yourself to something special? Our beautiful Woodcliff Lake jewelry store features a stunning collection of uniquely designed tennis bracelets, so you can choose an exquisite option for your next occasion.
Contact F. Silverman Jewelers or visit our showroom to find the perfect tennis bracelet for your style and budget.