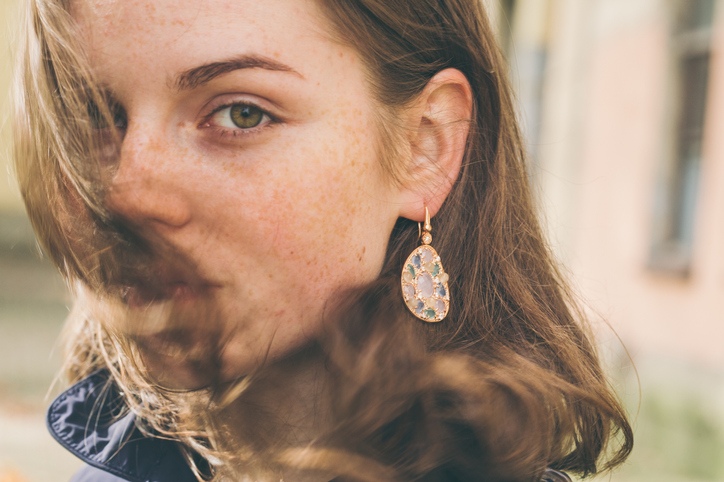 If you're looking for a way to spice up your accessories, mismatched earrings might be the way to go. This stylish new trend is taking the runways by storm, with world-class designers dressing models and stars in a range of mismatched, asymmetrical and even single earrings.
Mismatched earrings don't have to stay on the runway. They add confidence, style, and a fresh feel to almost any look. Plus, wearing mismatched earrings is an easy way to breathe new life into your earring collection. But how do you wear mismatched earrings without looking like you put on two different earrings by mistake?
Wearing Mismatched Earrings
The trick is to choose pieces that are different but similar, correlating in theme, color, or material:
Theme – Choose mismatched earrings that share a theme to make sure that they are complementing to one another and don't look random or forced. You can choose any theme you want depending on your personal style. If you're looking for inspiration, some popular themes include flowers, leaves, moon and stars, sailing, and geometric shapes.
Color – Color easily connects earrings that are different shapes, themes, or materials. You can choose two different earrings that are the exact same color. You can also go for pieces with complementary colors like black and white, blue and yellow, or green and purple.
Material – Similar or the same materials can bring together earrings in vastly different designs. For example, a dangling gold chandelier pairs well with a short gold drop or stud, just like a chunky plastic hoop works with a plastic post or cuff.
Have Fun
The other key to mismatched earrings is to have fun. Try bold and interesting combinations to show off your unique style. Play with different shapes like a large hoop and a tiny stud, or various lengths like a dramatic drop and a shorter chain. Asymmetry is your friend when it comes to mismatching earrings in a stylish way.
You can also go totally asymmetrical and wear a single piece of a pair of earrings you already have. This single-earring trend works best with large or theatrical earrings as they make big statements.
It is a good idea, though, to minimize other accessories and embellishments when wearing mismatched earrings. Try to keep other accessories to a minimum or avoid wearing loud colors or patterns in order to keep your outfit from looking too busy. It's also a good idea to wear your hair in a style that complements bold earrings like an updo or side-sweep.
F. Silverman Jewelers
F. Silverman Jewelers has been serving Bergen County for over 20 years with stylish jewelry and gifts. We offer a stunning selection of earrings that will make it easy for you to enjoy this mismatched trend, keep it classic, or create new trends all your own.
Visit our showroom in Woodcliff Lake to find your perfect piece.
Additional Resources
Glamour.com, Mismatched Earring Trend, https://www.glamour.com/gallery/mismatched-earring-trend
Cosmopolitian.com, How to Wear Mismatched Earrings, https://www.cosmopolitan.com/style-beauty/fashion/a25862996/mismatched-earrings/