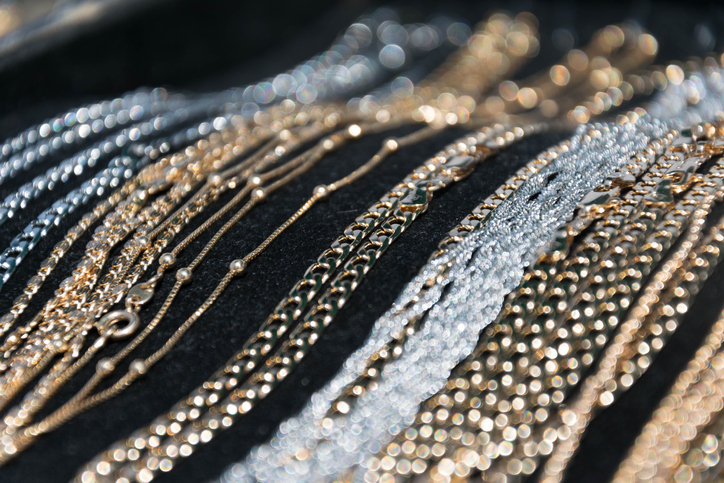 You've seen the look: an elegant disarray of delicate necklaces perfectly layered just so. Layered necklaces look so effortlessly refined, but in reality, the style can be tough to execute properly. Which necklaces go together? How many is too many? Which metals blend best?
Here are the top tips for layering necklaces so you can look painlessly stylish:
Wear at Least Three Necklaces
The best layered look has at least three necklaces – one short, one medium, and one long. But, if you want to wear more than three, try to keep your combination to an odd number. While there are countless layering options, the chicest and most visually pleasing looks tend to have three or five pieces. Seven might be pushing it, though.
Mix and Match Lengths
Make sure you have a mix of different lengths. This way, you get that gorgeous and elegant cascade effect that not only creates a cohesive look but also showcases each individual piece. Start with a necklace that falls close to the next and create the layers from there. Don't worry, if you have favorites that are the same length you can add a chain extender.
Play with Different Styles
The fun of layering comes from mixing and matching contrasting styles. Pearl necklaces and gold, geometrics and delicate chains, and any other combination you can think of. Don't forget to combine different textures and weights. This not only looks good, but also helps reduce the risk of tangling. 
Keep Metals Unified
While you can have fun with different styles, textures, colors, and weights, try and keep your metals unified. In other words, wear all gold necklaces, all silver, all rose gold, and so on. This way, your layering will have a cohesive, chic appeal.
Add a Statement Necklace
That being said, don't be afraid to add a bold statement necklace to your layer for an eye-catching pop. A statement piece will act as the focal point of your look, and the smaller, more delicate pieces will look as if you always wear them. Very chic.
What kind of statement necklace should you choose? Enameled or colored gemstone necklaces add fun color, especially if you're wearing a monochrome outfit. A lariat's elongated look helps make the upper body appear longer and leaner, while trendy bar necklaces act as a divider between the shorter and longer pieces.
Break the Rules
At the end of the day, style rules were made to be broken. Have fun with your necklaces and create your own layered look! After all, you know what looks best on your body and how best to show off your unique personal style.
Layer Necklaces from F. Silverman Jewelers
Looking for necklaces you can layer? Come to F. Silverman Jewelers in Woodcliff Lake. We've been serving Bergen County for over 20 years with stylish, timeless, and always high-quality jewelry – including necklaces that are perfect for the chic layered look.
Whether you're looking to add some glamor to your work-from-home look or are searching for a lovely holiday gift, F. Silverman has the layering necklaces for you.