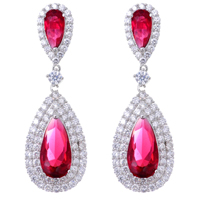 Chandelier earrings have been coming back into style this year, with good reason. They add an elegant, yet fun look to every outfit and hairstyle, and they offer a pleasing way to attract the right kind of attention during a Zoom meeting or virtual date. If you're ready to ramp up your style game, it's time to revisit your collection of chandelier earrings and perhaps add a few new ones to your jewelry box.
Exploring the features of chandelier earrings
Named after the distinctive light fixture that descends dramatically from the ceiling, chandelier earrings are long, dangling earrings. They have earned their name for more than just their silhouette, however. These style statements can actually throw more light onto your face, thereby flattering your jawline and putting a sparkle in your eyes.
Chandelier earrings can embrace a range of looks—from ornate and sophisticated to funky, bohemian, fun, or flirty. Note that they are not the same as drop earrings, which typically maintain a single width from top to bottom. In contrast, chandelier earrings tend to flare out toward the bottom, gaining a great deal more width. This gives them a dramatic and eye-catching look.
Choosing chandelier earrings for your face shape
Chandelier earrings can look great on anyone, but they are particularly beneficial for women with round, square, or diamond-shaped faces. This type of jewelry helps to balance out these face shapes, making them look more streamlined. As an added perk, chandelier earrings can help to accentuate the neck, making it appear to be longer and more elegant.
How to wear your hair while wearing chandelier earrings
There are many different ways to style your hair so that you can show off your beautiful chandelier earrings. If you prefer to wear your mid-length hair down, consider straightening it and parting it on the side. Then, tuck the low side behind your ear to draw attention to the earring.
If you have long hair, you could also wear chandelier earrings paired with a high ponytail or a messy bun for a casually elegant look. They also look great with braided hairstyles, as well as a bob cut that is a bit lower than the level of your earlobes.
How to match chandelier earrings to your wardrobe
One of the great things about chandelier earrings is that they are so versatile. They look equally at home at a coffee shop as they do on a fashion runway. If you're attending a formal event, you can pair them with an elegant gown. Outside of formal occasions that call for dresses, you can pair chandelier earrings with a casual outfit like slacks and an understated blouse.
One rule to keep in mind, however, is that it really is possible to overdo your jewelry. Since chandelier earrings are themselves a statement piece, it's best to keep the rest of your jewelry understated. Instead of opting for a statement necklace, for example, wear a simpler, chic one.
Find the perfect chandelier earrings for you at F. Silverman Jewelers
The expert team at F. Silverman Jewelers has decades of experience in the jewelry field. We carry a wide array of chandelier earrings and other fine jewelry that complements them. If you're shopping for that special someone, we can help you select the perfect gift. Stop by our showroom in Bergen County, New Jersey, to see our collection for yourself and receive knowledgeable guidance from our friendly staff.