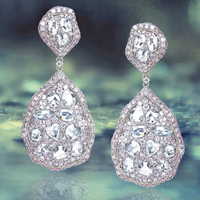 While every pair of earrings is stunning in its own way, some will help you look your best more than others – as different earing styles complement different face shapes. While you should always choose whatever makes you feel confident and beautiful, here are some guidelines for helping you find earrings that do with your face shape.
What Is Your Face Shape?
To determine your natural face shape, begin by washing your face clean of any makeup. Then, pull your hair away from your face and neck. In a mirror, trace your face's outline with lipstick or colored soap to give you a clear idea of your face's general shape.
The most common are round, oval, heart, inverted triangle, and diamond.
Earrings for Round Faces
Round faces, as the name denotes, are very circular with few or no angles, sharp lines, or edges on the cheeks or chin. As round faces can have a wide appearance, its best to wear earrings that can help elongate or add edges.
Long drop or slender chandelier earrings are best as they add length. Try to avoid large hoops as they only accentuate the circular shape. Stud earrings are generally ok, but larger ones may make your face appear more round.
Earrings for Oval Faces
Round and oval faces are similar, but not quite the same. Unlike round faces, ovals are longer and usually see the facial features evenly distributed. Also, oval faces generally do not have wide chins or foreheads.
Every kind of earring looks gorgeous with oval-shaped faces, but triangle-shaped drops, studs, and hoops work particularly well as they accentuate your high cheekbones.
Earrings for Heart and Inverted Triangle Faces
Heart-shaped faces are distinguishable because the chin is narrower than the forehead, and the face grows wider as it moves up. Inverted triangle faces are similar to heart-shaped in that they have wider foreheads than chins, but they are different in that inverted triangle faces are more angular with clear cheekbones and jawlines.
Because of the stark contrast between a small chin and wide forehead, heart-shaped and inverted triangle faces work best with earrings that are heavier at the bottom, like teardrop earrings. This helps create balance to your face for a longer, leaner look.
Earrings for Diamond Faces
In diamond faces, the eyes are the widest part of the face, with the chin and forehead appearing to be the same width. This shape often appears long, so it's best to avoid earrings with sharp angles.
Instead, wear earrings that soften potentially harsh angles and draw focus to your chin, like teardrop earrings or simple studs.
Find Earrings for Your Face Shape at F. Silverman Jewelers
No two faces are alike, so you deserve earrings that are just as unique and beautiful as you. You can find an alluring new pair of earrings to complement your face shape at F. Silverman Jewelers in Bergen County. Browse our large selection of chandeliers, hoops, drops, studs, and more, or have one of our expert jewelers assist you in finding the perfect pair.