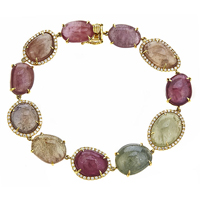 Jewelry has always provided the opportunity for self-expression, and 2020 jewelry trends are no exception. From bright and colorful stones to bold chokers, chains, and hoops, 2020 jewelry is all about showing off your personal style.
Get a sneak peek at six of this year's biggest jewelry trends so you can start shopping now.
Colors
While gold and silver are always classics, 2020 is all about color. The runways were riots of color for the Spring 2020 lines, and designers are expected to continue this trend all year long. Be bold with colorful jewelry. Don't be afraid to mix and match different stones and metals, as the more colorful your jewelry the easier it is to match with your wardrobe.
Big Chains
Big chunky chains are making a massive comeback this year. From heavy gold and silver to colorful links, a chunky chain adds an edgy, cool appeal to any look. Pair a big chain with a delicate necklace for a stylish contrast or combine timeless style with modern appeal with an oversized pearl-encrusted chain.
Big Hoops
Hoops have always been in style, but 2020 will see big hoops on the rise. Have fun with more modern big hoops in optic white or retro tortoise for a fresh look or choose an oversized yet still delicate pair of hoops to balance classic appeal with today's trends.
Pearls
From drop earrings and layered necklaces to headbands, bracelets and more, pearls are popping up everywhere in 2020. While pearls have always been around, the difference in this year's style is that they have taken on a bit more edge. Try a pearl choker layered with a chain or pendant or wear drop pearl earrings with jeans and a sweater.
Chokers
Go big or go home with chokers. The runways were full of extravagant, statement-making chokers, so why not get a piece of the action for yourself? A spiked choker is definitely funky, while heavily rhinestoned chokers are indulgent and undeniably chic.
A Single Earring
Earrings don't need to travel in pairs in 2020. The key to the single earring look is to choose an earring that is big, bold and beautiful enough to stand on its own. Rock a massive gold or silver hoop or show off some sparkle with a single chandelier earring in a fresh color.
Fine Jewelry at F. Silverman
F. Silverman Jewelers in Bergen County has the perfect pieces to help you achieve these trends and more. Our selection of fine jewelry from world-class designers boasts something for every taste and style, from classic to modern, timeless to trendy.
Come visit our beautiful Woodcliff Lake showroom to browse, touch, and try on our exquisite pieces. Our friendly and expert staff are ready to help you find the jewelry of your dreams, whether for someone special or to treat yourself.
Additional Resources:
Harper's Bazaar, 5 New Jewelry Trends to Try, https://www.harpersbazaar.com/fashion/trends/g29038434/spring-2020-jewelry-trends/
Marie Claire, The Jewelry Trends You're Going to See Everywhere in 2020, https://www.marieclaire.com/fashion/g30431307/jewelry-trends-2020/