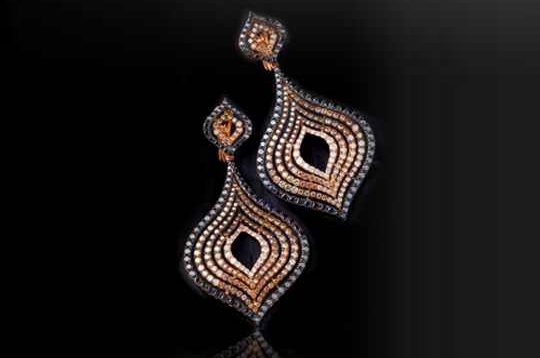 Back-To-School Jewelry
First impressions can really make or break a school year – particularly if you're switching schools or heading in for your freshman year in high school or college. The right accessory can make a great conversation piece to break the ice with strangers. Jewelry selection can easily dress up an all-black or otherwise plain outfit in just the right way. However you choose to adorn yourself, you'll feel more confident going back to school in a look you love. Here are three hot trends in back-to-school jewelry you'll find at F. Silverman's, in Bergen County.
Statement piece necklace
"Every college student needs at least one stylish statement necklace in their collection," says Fashion Times intern Lize Nierkerk. She adds: "They can be dressed down for a casual-but-cool school outfit or dressed up for work or nights out with friends." She recommends a gorget by Eye Candy Los Angeles.
Our Pick: Check out the bold shapes, vibrant colors and intricate detailing of the DABAKAROV COLLECTION!
The distressed 90s look
The nineties are a big part of the fall fashion season, reports The Jamestown Sun. Retro ripped denim, tall combat boots, flannel, oversized cardigans, and earthy olive tone shirts are pouring into stores right now. The best accessories can dress up a casual look and pair just as well transitioning to evening wear.
Our Pick: We love the Misterio Collection's natural-colored diamonds with hues from champagne to cognac.
Choker style necklace
The Jamestown Sun also reports that "chokers are in" for back-to-school style. Today echoed this sentiment in July when they announced "Chokers are back in a big way," and pointed to celebrities like Kate Hudson who have rocked the style recently. You'll find they can be very versatile, depending on the material or charms you choose.
Our Pick: Dress up any choker with a FOUR KEEPS locket.
Statement earrings
Back-to-school jewelry is especially important to girls whose style is confined by a dress code. "A sure way to make any youthful school uniform outfit a little more grown-up is to wear statement jewelry," reports Verily Mag. "A pair of tortoiseshell earrings will give you that 1960s mod vibe while highlighting the earthy tones of your fall look," they report.
Our Pick: The eye-catching colored pearl strand earrings by Honora are sure to show off your grace!
Your source for fine jewelry in NJ
Our Bergen County, NJ jewelry store offers a variety of cutting-edge independent designers, in addition to handcrafting unique custom pieces for your back-to-school statement. Contact us at (201) 930-8883 or stop by 24A Chestnut Ridge Road in Woodcliff Lake for the individual attention you deserve.