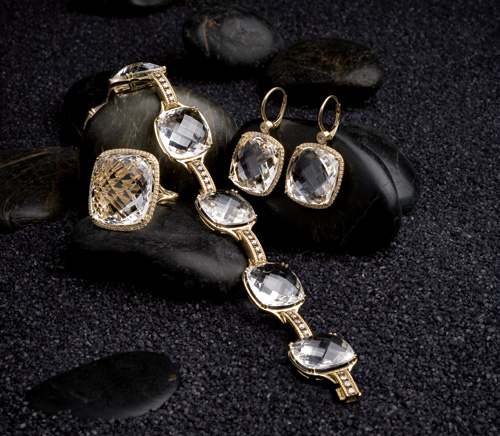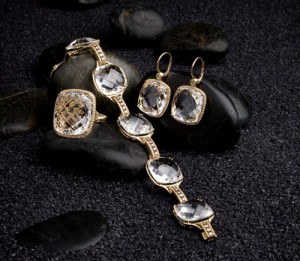 Hottest jewelry trends for Fall 2015
Cutting-edge creations by Prada, Calvin Klein, Givenchy, Marc Jacobs and Alexander McQueen grace the pages of Vogue, highlighting this fall season's must-have jewelry.  From choker necklaces to bold geometric designs, to 70's and 80's throwbacks, this season's trends can only be described as eclectic.
This fall, runways showcased the weird and the wonderful, with statement pieces that are sure to stand out in a crowd. Here's a recap of some of the hottest looks for fall 2015.
Long chains – Conjuring up a decidedly 70's look, graceful pendant necklaces are once again a trend-setting accessory, this time with slim gold chains.
Bold colors and geometric designs – Adorn earrings and bracelets by designers Missoni, Armani, Carven and J.W. Anderson, which rocked the runway with club-kids style. These statement pieces harken back the deco and high drama of Manhattan in the 80's.
Classic broaches – With a fresh twist complement both casual and dressy attire. Abstract designs and flower motifs are especially hot this fall. From Puglisi's daring metals to Prada's romantic designs, they're great for adding a bit of interest to dresses and collars.
Choker necklaces – Crafted from bold materials, ranging from leather to lace, collar necklaces were a catwalk favorite this season. Add some elegant drama to your neckline with these creative pieces, many of them Art Deco inspired.
Modern take on pearls – Dolce & Gabbana, Stella McCartney and Gucci were just some of this year's designers who featured a wild array of pearl jewelry, from long double chains to oversized rings and stunning bracelets with both white and colored pearls.
Fringe factor – The fashion world is seemingly obsessed with fringe, adding tassled pieces to earrings, bracelets and necklaces for added dimension and movement. Tom Ford's long, black fringe earrings were a particular standout on the runway.
Stackable bracelets – Get ready to stack on luxurious style this fall with a wide assortment of gemstone bracelets complemented by yellow gold.
Intricate Baroque styles – Those with a taste for ornate pieces – think gorgeous filigree necklaces, cuffs and dangling earrings with dark-hued gemstones will love the creations by houses like Bottega Veneta, Givenchy and Chanel.
Shop fall jewelry trends in Bergen County
For all of your fine jewelry needs, including the latest trend-setting designs to complement your collection, visit F. Silverman Jewelers in Woodcliff Lake, NJ. For more than two decades, our family-run business has been serving the greater Bergen County area with stunning diamond jewelry, gemstones, pendants, diamond earrings and other unique creations by top designers like India Hicks and Dev Valencia.