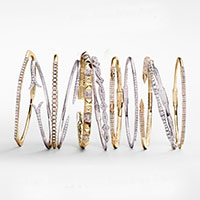 Here at F. Silverman Jewelers, we love our jewelry designers not only because these world-class artisans fill our showroom with stunning fine jewelry, but because they are leading jewelry trend-makers. One example is Gabriel & Co., a premiere brand known for breathtaking fashion and bridal jewelry. Read on for our recap of Gabriel & Co.'s take on 2021 spring jewelry essentials.
Multi-Drop Necklaces
Multi-drop necklaces feature several hanging features like charms or gems, making them a go-to option to elevate any look. The multiple drops add fluidity and movement in a way that's reminiscent of a warm spring breeze. Pair a light, delicate multi-drop necklace with a tank top or basic t-shirt for an effortlessly chic look, or use it to finish a more formal, eye-catching dress.
Talismanic or Symbolic Pieces
These days, we need all the help we can get. Why not make your jewelry both beautiful as well as talismanic or symbolic? You can find a whole host of meaningful jewelry this spring, from necklaces that bring about luck and pendants that gather love to gemstones that symbolize prosperity or hope.
Cuffs
From gold and silver to mixed material, cuffs aren't going anywhere. Continue this trend into spring by stacking bangles with medium-width cuffs for a fresh and fun look. You can also let cuffs stand alone for a bold, streamlined statement.
Stacking Rings
Spring can be a busy time, what with spring cleaning, social events, and getting out and enjoying the warm weather. Stacking rings are ideal for spring as they do the style work for you. Just slip on a few rings, and you've got a chic look in just seconds. Plus, you can have lots of fun mixing and matching different metals, materials, colors, and more for look after fabulous look.
Colorful Gemstones
White diamonds, silver, and gold will never go out of style, but colored gemstones are seeing a serious surge this spring. After all, a hint of color will instantly add life to your Zoom meeting look. Be daring with colored jewelry and play with bright neon stones and soft pastel gems alike.
Modern Pearls
Pearls have been trending up for a few seasons, and options this spring include modern and unique pearl pieces like asymmetrical necklaces, open rings with laid-in pearls, or layers of pearl bracelets. Pearls will still evoke that timeless appeal, but these new twists will add a level of originality.
Find These Spring Essentials and More at F. Silverman Jewelers
F. Silverman is proud to offer sought-after, stylish pieces that will be perfect for spring. Our Woodcliff Lake, NJ showroom is brimming with spring essentials from Gabriel & Co and many other industry-leading designers. Pay us a visit to see for yourself why F. Silverman is known for fine jewelry and impeccable customer service. Contact us today with any questions.