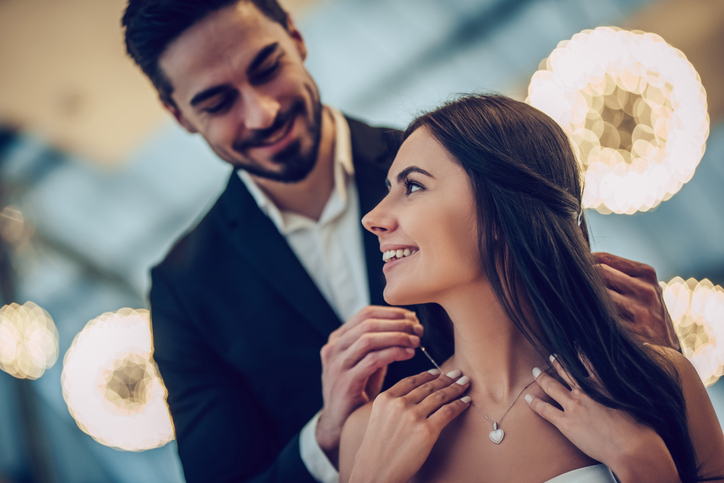 If you're looking to show the special person in your life how much you care, jewelry is always a good choice. But, with so many options out there, how do you buy a necklace for your girlfriend, wife, partner, or significant other?
Know the Options
The best place to start is knowing the necklace options. From chunky statement pieces and classic lockets to chains and pearls, there are a lot of different kinds of necklaces out there. It's important to at least know the main types so you can easily choose the right one for your special someone.
Some kinds of necklaces are self-explanatory, like a strand of pearls or a chain. Others are a bit more ambiguous, including:
Statement necklaces – pieces with large accents, diamond or stones
Chokers – short necklaces that fit tight to the neck
Layering necklaces – long, thin necklaces with delicate embellishments or none at all
What's the Occasion?
You also need to consider the occasion that you're buying the necklace for, as different occasions call for different kinds of gifts. For example, for more rare or important occasions like a wedding or big anniversary, a fancier, more expensive necklace is best. However, for more casual occasions like a date night or just to show you care, a simple piece will do the trick.
Consider Her Style
You don't want to buy her a necklace that she will never wear. Carefully consider her personal style to make sure you choose a piece she will not only love but will also use.
Does she have a simple or minimalist style? Layering chains or simple pieces would be better than statement necklaces. Does she love wearing color and sparkle? A bold choker or statement necklace would be great.
If you're not familiar with jewelry types and don't feel confident decoding her style, just stick to simple details. Does she wear big jewelry or small jewelry? Colorful or neutral? Lots of bling or more subtle?
What Does She Already Have?
The last thing you want is to buy her a necklace that she already has or one that is too similar to her existing collection. Take a peek in her jewelry box to check what she owns. If you don't have access to her wardrobe, take a few dates or outings to observe the jewelry she wears.
Buy Quality
Always buy quality, even if the necklace is a small gift. You don't want to buy her a necklace that will break or leave green marks when she wears it. Cheap jewelry is always a bad choice. Instead, opt for a high-quality necklace you know she can enjoy for years to come.
F. Silverman Jewelers in Bergen County offers a superior selection of quality jewelry and gift items, including necklaces. Our expert staff can help you select the perfect piece for the special lady in your life.
Additional Resources:
JewelryShoppingGuide.com, Buying Jewelry for Your Girlfriend, https://www.jewelryshoppingguide.com/tips-buying-jewelry-for-girlfriend/
BespokePost.com, The Dos and Don'ts of Buying Jewelry for Your Significant Other, https://www.bespokepost.com/the-post/the-dos-and-donts-of-buying-jewelry-for-your-significant-other