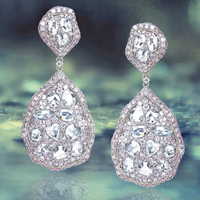 We've all heard about the essential clothing basics that every closet needs: a crisp white button-up, sleek black slacks, a tailored blazer. But did you know there are also essential jewelry pieces you need in your collection?
Jewelry is the finishing touch for every look, so it's important that you have a collection of jewelry essentials that can round out any outfit with style and class. Build your jewelry collection with these essential pieces.
Stud Earrings
Though small and simple, a pair of stud earrings can make a big impact on your look without any real effort or thought on your part. Be sure you have a great pair of stud earrings in your jewelry collection that suits your personal style, be it gold, silver, geometric or themed.
A Classic Watch
The right watch will tie together your outfit with polish and the right amount of personality. Look for a piece with a clean, streamlined design that feels professional but still stylish to serve as an everyday watch that helps you build your jewelry collection.
A Delicate Necklace
An unobtrusive delicate necklace can serve as the chic base for layering other necklaces or as a subtle, everyday piece you can literally wear every day. Choose a necklace that has sentimental or personal meaning to boost the style and make it uniquely yours. Try one that showcases your birthstone, has a small stone or charm with a meaning, or has a loved one's initials.
Stackable Rings
A small selection of stackable rings creates the ultimate mix-and-match jewelry collection. Choose a handful of rings in varying thicknesses, metals, colors, and textures that you can wear all together, alone, or in various groups. The goal is to have a variety of rings you can easily combine to complement your different outfits and jewelry pieces.
A Statement Bracelet
No jewelry collection is complete without a few bold pieces that really show off your style. Start with a statement bracelet. The ideal basic statement bracelet is a cuff or link that's sleek and architectural to add dimension and flair. You can also try a bracelet with different textures or materials for layering.
A Statement Necklace
Similar to a statement bracelet, you need a statement necklace for when you need to punch up a daytime look or add flair to a nighttime outfit. Unlike your delicate everyday necklace, this statement piece needs to command attention and serve as the focal point of your ensemble. However, you don't want your statement necklace to be too colorful, as too many colors remove its universality. Instead, choose a statement necklace in a staple hue like gold, silver, or bronze in a bold design like a chunky chain or long lariat.
F Silverman Jewelers
F. Silverman Jewelers in Bergen County, NJ has a stunning selection of women's fine jewelry perfect for building your collection. Visit us today to let our expert staff help you find your ideal essential pieces. We serve clients from Woodcliff Lake, Montvale, Saddle River, and beyond.
Additional Resources
Refinery29.com, 11 Jewelry Essentials to Have in Your Collection, https://www.refinery29.com/en-us/how-to-start-jewelry-collection
SothbysHome.com, How to Start Your Jewelry Collection, https://sothebyshome.com/blog/2019/09/10/how-to-start-your-jewelry-collection-sothebys-kendall-reed/