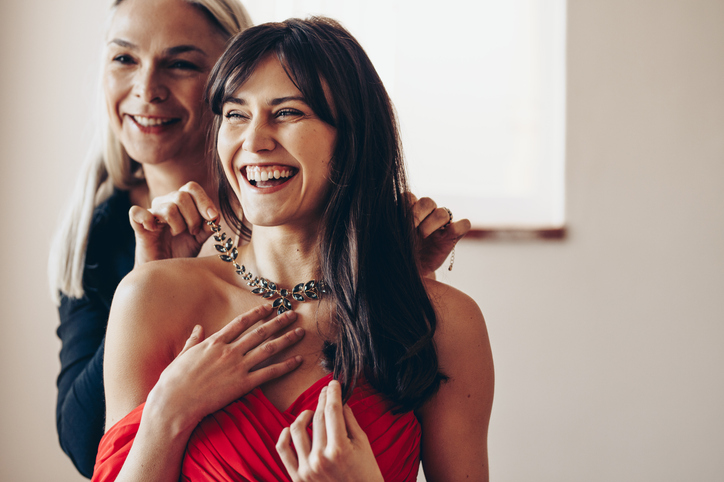 For much of the pandemic, sweatpants reigned supreme and fashion went out the window. Now that vaccines are widely available in the U.S. and people are stepping out again, it's clear to see that many missed getting dressed up. Jewelry trends in the tail end of 2021 and into 2022 have largely been over the top and dramatically eye-catching, with clever twists on both structure and colors.
So, what necklaces are trending now? Leading-edge looks include layers, links, and bigger as better.
Necklace trends in 2022: Lots of layers
Layered necklaces have been in style for quite some time now, and the trend doesn't appear to be dying down any time soon. Gold chain necklaces are particularly popular. When layering your necklaces, follow these tips:
Vary the lengths – Ideally, you'll want to have graduating lengths of jewelry for a more eye-catching look. Wear one or two necklaces that kiss the collarbone, as well as one medium-length necklace that sits below the collarbone and above the décolletage. The last step is to layer on one long necklace that extends to the chest.
Vary the thickness – If you're going for a subtle, everyday look, opt for just two necklaces of different degrees of "chunkiness." This adds depth and texture to the look. If you prefer a more dramatic look, choose three to six necklaces, but be sure that they all have varying degrees of thickness. Select one that's slender and delicate, one that's large and chunky, and then a few in between.
Looking for necklaces for women in Upper Saddle River? The trend toward lots of layers is the perfect excuse to go shopping!
Lots of links
In addition to the "lots of layers" trend, necklace aficionados are going all out when it comes to links lately. Chain link necklaces make a bold statement, and the chunkier, the better. When wearing a particularly dramatic, chunky chain link necklace, it may be best to keep the rest of your wardrobe understated in order to put the spotlight on your neck.
Go for oversized necklaces
When it comes to chokers, there's no such thing as too big. The fall runways have been flaunting lots of chokers that are practically larger than life—both in terms of height and stylistic detail. The trending chokers are encompassing nearly the entire height of the neck and protruding outward to add depth and texture to the look.
Be a brand ambassador
Remember eons ago when having brand names plastered all over your wardrobe was considered tacky? That's no longer the case. Now, it's a shortcut to achieving a flawlessly high fashion look. Stay on trend heading into the New Year by shopping for necklaces that boast the brand names or initials of your favorite designers.
Shop for trending necklaces at F. Silverman Jewelers
You'll find every style of necklace your heart might desire at F. Silverman Jewelers. Choose from trending or timeless styles of necklaces in Upper Saddle River from our extensive collection of fine and fashion jewelry. If you're looking for a gift for that special someone, our experienced jewelers will be happy to assist you. We also offer custom jewelry designs using our state-of-the-art CAD/CAM system. Stop by our shop in Woodcliff Lake, NJ today.