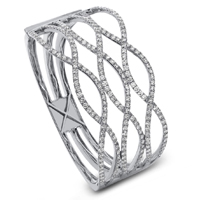 Though bangles and bracelets are both types of jewelry worn on the wrist, they are not the same. Bangles are solid and do not have openings or clasps, while bracelets are flexible and have clasps. 
The differences between bangles and bracelets can be broken down into three categories: rigidity, material, and mode of closure.
Rigidity – Bangles are rigid, meaning they hold their shape, while bracelets are flexible and can be manipulated out of the circular shape.
Material – Because they're rigid, bangles are usually made from solid, strong materials like brass, gold, silver, wood, or hard plastics. Since bracelets are flexible, they can be made from beads, silver, or gold.
Mode of Closure – Bangles are complete circles and do not have any openings or clasps. They therefore need to be slipped over the hand when put on. Bracelets, on the other hand, have clasps or elastic bands, so they can be either slipped over the hand or clasped onto the wrist.
The History of Bangles and Bracelets
Bangles have been worn as jewelry for thousands of years. The word "bangle" can be traced back to the Hindi word "bangri," which means "ring-shaped armlet." Historians have found evidence of humans wearing bangles as far back as 2600 BC. Back then, they were made from copper, seashells, terracotta, and bronze.
Bracelets have an even older origin story, though the word itself is more modern. The first appearance of bracelets in history was the scarab bracelet from Egypt in 5000 BC. But the word "bracelet" came from the middle French word "bracaille," which means "armlet."
How to Wear Bangles
Bangles are traditionally worn stacked together with other bangles, as per their South East Asian heritage. Stacking bangles is a fun way to add color and texture to an outfit as you can tailor your stack to your unique personal style.
Have fun layering bangles of different materials, or build a large stack of all silver, gold, or rose gold for a modern look. You can also stack bangles of different widths for even more interest and depth.
How to Wear Bracelets
As opposed to bangles, bracelets are often worn alone as standalone pieces. However, this tradition doesn't mean bracelets are boring! In fact, you can find bracelets in almost any color, material, thickness, and style you can think of.
Very flexible bracelets made from beads or charms are generally more casual, while tennis and chain diamond bracelets are best suited for more formal occasions or looks. Experiment with bracelets of different materials for different styles, like delicate gold chains for daytime and elegant diamond bracelets for evening wear.
Bangles, Bracelets, and More at F. Silverman Jewelers
No matter if you're a bangle or a bracelet person, F. Silverman Jewelers can help you find your perfect piece. Our lovely showroom in Woodcliff Lake is overflowing with stunning bangles, bracelets, and more just waiting to be discovered. Stop by and visit us today.