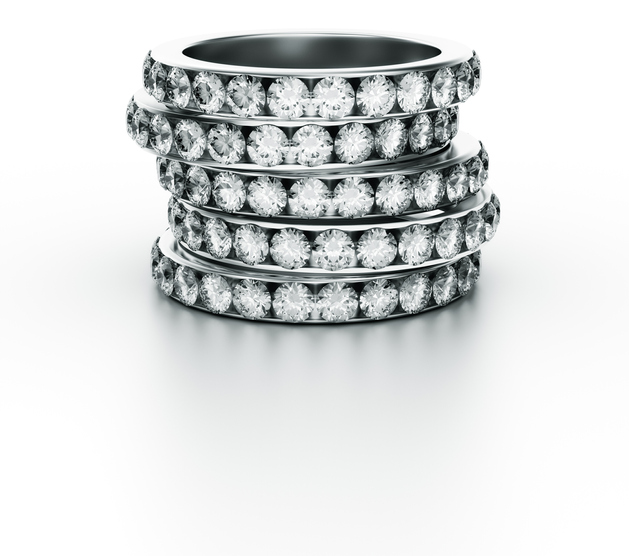 Congratulations! You've found a beautiful engagement ring to pop the question and wow your partner with—but you're not finished jewelry shopping yet. Now it's time to find a wedding band to match before you exchange your vows.
If you're shopping for a ring that is truly one-of-a-kind, why stop at just one band? Stacked wedding rings are the perfect way to bring your love story to life. For stunning wedding ring sets in Woodcliff Lake, count on F. Silverman Jewelers to complete your wedding day look.
What are stackable wedding bands?
Stackable wedding bands are a set of multiple rings that sit together. Stackable ring sets typically include the engagement ring, wedding band, and other rings that complement the engagement ring.
Depending on the wearer's preferences, they might add or switch bands to celebrate a special occasion or match their personal style. Some wearers add bands to mark occasions like wedding anniversaries, the birth of a new child, and other important milestones.
A ring stack also means you can play with different looks, silhouettes, and styles. For instance, if you have a timeless white gold ring set, you might mix in a few mixed metals or colored stones for a less traditional look.
How to build the perfect stackable wedding ring set
When it's time to start shopping for stackable bands, there are a few things to keep in mind. Most importantly, the size and shape of your engagement ring will influence which bands you can stack. For example, you might complement your pear-shaped engagement ring with a pointed wedding band. Alternatively, you might pair a pointed band with a classic round diamond for a more dramatic look.
Ultimately, there's no right or wrong way to create a wedding ring set—it's all about your personal style and preferences. With that said, it's always a good idea to stop by your local jewelry showroom to experiment with different combinations in person.
How to wear stackable ring sets
Once you've found a gorgeous engagement ring and a few complementing bands, it's time to put it all together. While many wearers follow tradition, it's also important to choose what feels right to you.
Most wearers use a symmetrical stacking method, placing the engagement ring in the middle and surrounding it with two bands. Another option is to put the engagement ring on first and then put the two bands on after.
Whether you're layering dramatic, mixed-metal rings or unique vintage styles, keep it light. Don't be afraid to layer your rings in a different order—and don't overthink the process! As you play with different shapes and silhouettes, you'll figure out what feels good and what layers work best.
Create a one-of-a-kind wedding ring set with F. Silverman Jewelers
Whether you're surprising your partner or shopping for a unique ring set, choose F. Silverman Jewelers for wedding ring sets in Upper Saddle River. Selecting the perfect wedding band is just as important as your engagement ring—and our team is here to help you every step of the way. Stop by our showroom in Bergen County, NJ today.