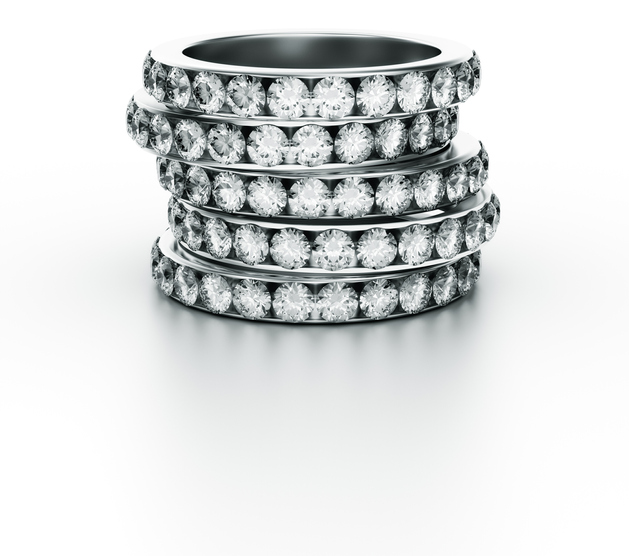 While the engagement ring takes center stage before the wedding, the wedding band often becomes just as if not more important after the wedding. As it is a symbol of unending love, fidelity, and commitment, its vital to choose the right wedding band.
A current wedding band trend is stackable wedding rings. These chic and modern bands offer style, personality, and daily convenience.
What Are Stackable Wedding Bands?
Just like stackable bracelets, stackable wedding bands are slender and delicate rings designed to be worn on the same finger. While many stackable wedding rings are part of a specific interlocking design, there are others that simply match well together.
Some stacking wedding rings are purchased all at once and are all worn right after the ceremony, while others can be purchased over the years to commemorate special occasions like the birth of a child or an anniversary.
Many people think that stacked wedding rings are the same as the traditional bridal set, meaning an engagement ring and a wedding band that are worn together. However, stackable rings and bridal sets differ in that bridal sets only have two pieces and the two pieces are a permanent style while stackable rings can have many pieces each with different styles, shapes, stones, and even colors.
Why Choose Stacked Wedding Rings?
While traditional bridal sets are timeless and beautiful, stacked wedding bands are all about modernity and customization. They allow the bride to choose the ring or rings she wants to wear on a daily basis, letting her showcase her personal style day-to-day. Stacked rings are more versatile, providing the opportunity for mixing, matching and accessorizing.
Plus, stackable wedding rings are ideal for celebrating additional milestones beyond the wedding itself.
Stacked Styles
There is an almost endless selection of stacked ring styles, including:
Enclosure – Rings that are made to fit together and usually come in sets of three or five.
Champagne – Bands with rounded edges that mimic the delicate bubbles that float in a flute of champagne.
Nested – Asymmetrical stacks of complementing rings in concentric designs.
Glam Wall – Bands that fit flush with one another to create a "wall" of stones that sparkle together.
Eclectic – A mixture of rings in various metals, stones, and stone cuts that allow a bride to mix and match as she likes.
F. Silverman Jewelers
F. Silverman Jewelers has a breathtaking collection of wedding bands that includes these chic stacking styles. Our curated selection boasts pieces from top designers like Gabriel & Co., Benchmark Rings and many more, allowing you to easily find the perfect wedding rings for you and your partner.
From modern stackable wedding bands to timeless bridal sets, F. Silverman Jewelers is Bergen County's top purveyor of fine jewelry. Visit our store in Woodcliff Lake today to begin your journey to forever with our wedding bands.
Additional Resources
MarthaStewartWeddings.com, Stacked Engagement Rings You'll Love, https://www.marthastewartweddings.com/601641/stacked-engagement-rings
WeddingIdeasMag.com, A Guide to the Stacking Wedding Rings Trend, https://www.weddingideasmag.com/guide-stacking-wedding-rings/