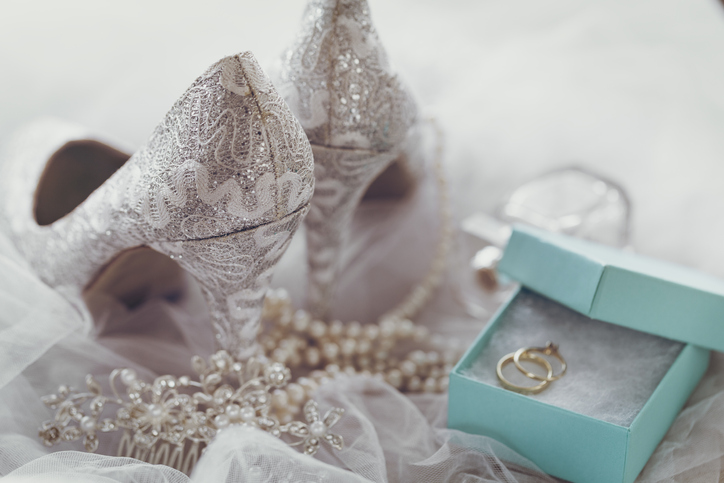 Winter weddings are absolutely beautiful. From the crisp, clean snow and the vibrant hues of the evergreens to glittering, warm fires, the simple elegance of the season lends perfectly to the romance of a wedding.
But perhaps the best part of a winter wedding? The jewelry. These winter wedding jewelry pieces are the perfect sparkling addition to your big day.
Metallic Hues
While silver is a popular choice for winter weddings, every metallic color is a marvelous choice. Metallic colors add modern sparkle that feels slightly reminiscent of the holidays, making them ideal for use in winter celebrations. Silver, yellow, and white gold are timeless choices, but you can also go with rose gold for a trendier look. Be sure to think about the color of your wedding dress, as each common wedding dress color pairs best with a certain shade of metal. For example, platinum and silver look best with bright white dresses, while champagne dresses are better suited to gold jewelry.
Delicate Rings
Large, chunky rings are tough to fit under gloves. Therefore, if you choose to add rings beyond your engagement ring or wedding band, it's best to go with a simple band with minimal decoration. Plus, a simpler additional ring lets your wedding rings shine.
Colored Gemstones
Colored gems, whether in a necklace, bracelet or earrings, really pop against a white wedding dress and snowy white backdrop. Choose colored gemstones that complement the rest of your wedding colors to keep everything in line. For example, if your bridesmaids are wearing red, you could opt for ruby earrings.
If you're at a loss for which color to choose, blue is an excellent option for winter weddings. The blue of a sapphire is reminiscent of deep winter chill, and a light aquamarine stone looks like glittering ice, making them gorgeous choices for your big day.
Statement Necklaces
Many winter weddings are elegant affairs, complete with full gowns and dramatic updos. Statement necklaces add glamour to a winter bridal look. From bibs and lariats to layered chains, statement necklaces come in many different shapes, styles, and even colors so you can find the perfect one for your wedding.
Inspired by Ice
Let your winter wedding jewelry be inspired by the wonders of nature in winter – like ice. Ice is stunning and sparkling, just like you want to be on your wedding day. Look for jewelry with intricate patterns that are reminiscent of frosty windows or dangling diamond drops that look like icicles.
If ice isn't your thing, you can also let other natural winter elements like berries, evergreen trees, pinecones, and snowy branches inspire your jewelry choices.
Wedding Jewelry at F. Silverman Jewelers
F. Silverman Jewelers has a gorgeous selection of fine jewelry, including many pieces that would be lovely for a winter wedding. Come visit our showroom in Woodcliff Lake to see our collection and find the perfect jewelry for your big day.