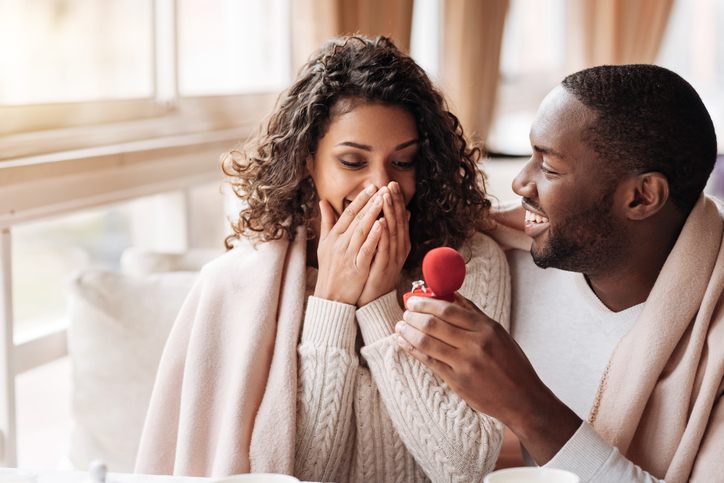 The winter holiday season and Valentine's Day are popular times of year to propose – but no matter when you're ready to pop the question, you'll need to shop for an engagement ring that's as unique as your loved one.
The beauty of an engagement ring is in the eye of the beholder, so choose one that complements your loved one's unique personality and sense of style. From timeless and elegant to extravagant and flamboyant, there are engagement rings available to suit everyone.
Unique engagement rings without diamonds
Diamonds may be a girl's best friend, but not everyone swoons over them. In fact, they weren't considered standard for engagement rings until the diamond rush during the mid-20th century. If the love of your life isn't impressed with diamonds, there's no reason not to consider other, more colorful gemstones. A deep blue sapphire engagement ring, like the one worn by Kate Middleton, may be better suited to your loved one. Aquamarine, pink sapphires, rubies, and yellow-orange citrine are all excellent choices. You may also consider mixing and matching. For instance, choose a deep red ruby for the centerpiece, flanked by delicate pink sapphires.
Gimmel rings for brides and grooms
Gimmel rings were all the rage in 17th century Europe, but today, few are familiar with them. Gimmel rings are comprised of multiple looped bands, typically two to three, which unhook to create separate rings. It is traditional for each partner to wear one loop of a gimmel ring during the engagement. If the gimmel ring is comprised of three loops, then a witness is to wear the third. During the wedding, the three loops are reunited to create a single ring, which is worn by the bride. Gimmel rings can be fairly simple or they can be extravagant, featuring multiple gemstones.
Engagement rings from outer space
If you're looking for an engagement ring that is literally out of this world, consider a band made from meteorite. Not all meteors survive the entry into Earth's atmosphere, as intense heat is involved. Those that do survive can land on Earth and may be retrieved.
Meteorites can be used to create some of the most unique engagement rings imaginable because they can be comprised of many different materials. While these materials are subjected to intense heat when passing through the atmosphere, various stones or metals can create different types of crystalline patterns. This means that every single ring created from meteorite is truly one of a kind.
Meteorite engagement rings can be as simple or as ornate as you'd like. For instance, you can use meteorite as only an inlay, or to comprise most or the entirety of the band. You might also add a liner, such as a rose gold liner. A meteorite band can be used as a wedding band, or you can add various gemstones to create a truly stunning engagement ring.
Shop for unique engagement rings in Bergen County, NJ
Are you on the lookout for unique engagement rings in Montvale or Woodcliff Lake, NJ? Contact us or stop by F. Silverman Jewelers today! We have a wide assortment of fine engagement jewelry for every taste, including stunning and unique engagement rings in Upper Saddle River. Our talented jewelers can also design a custom engagement ring with unique features to suit anyone's individual style and personality.