Jewelry should always look its best
Every jewelry aficionado knows that when jewelry needs to look its best, it's time for a visit to the professionals. Professional jewelers know how to use the right cleaning products and techniques to get the perfect result. Plus, jewelers like F. Silverman Jewelers in Bergen County, NJ also offer professional jewelry repair services.
But what if you need to quickly touch-up your jewelry and can't make it to the jeweler's? You can use a few simple tricks at home using typical household supplies.
DO treat pearls and turquoise gently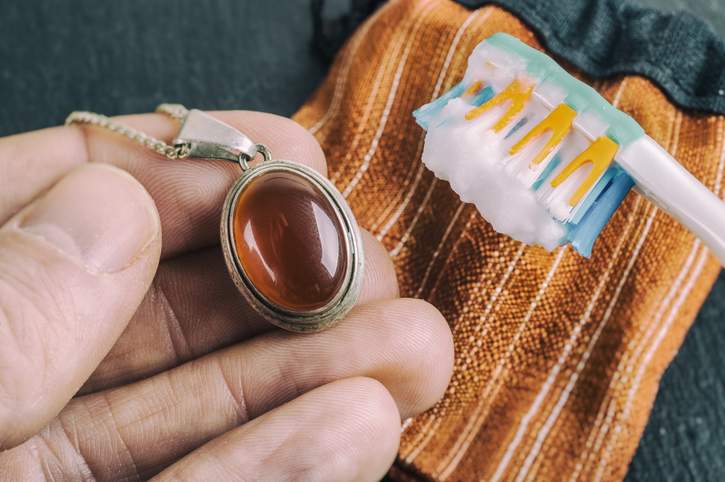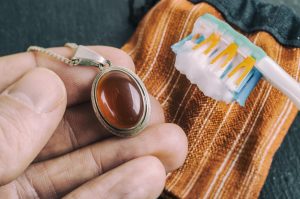 Pearls and turquoise are porous materials that require gentle care for a long life. Take a spare toothbrush—soft-bristled is best—and dampen it with warm water. There's no need to add soap. Brush your turquoise until it gleams and wipe it dry. In addition, leave it out to air dry for a few hours before putting it away.
Pearls are just as easy to clean. Fill a clean sink with about two cups of warm water. Add a little mild detergent and swish the water around to distribute the soap. Dip your pearls in the water, remove them quickly, and wipe gently with a cotton cloth. Lay the strands flat to finish drying.
DON'T polish jewelry with facial tissue
It may be convenient to grab some facial tissue or a paper towel to give your necklace a quick polish, but resist the temptation. These products can inflict micro-scratches on your treasured pieces. Instead, you can keep a supply of jewelry polishing cloths on hand for quick touch-ups.
DO use the right cleaning solution
Some jewelry owners reach for bleach to give their baubles a thorough cleaning. It's a mistake most won't make again, as bleach can ruin jewelry. Instead, visit your jeweler to purchase a commercial jewelry cleanser product. Some people also swear by rubbing alcohol, while others use aluminum foil.
Lay a sheet of aluminum foil on a roasting pan (crumple the foil a bit), and place your jewelry on top. Add a liberal dusting of baking soda to the jewelry. Boil a pot of water and pour the boiling water on top of the jewelry. Use tongs to gently move the jewelry around a little, ensuring that all sides come into contact with the foil. Once the tarnish has been transferred from the jewelry to the foil (and your jewelry is no longer hot to the touch), take it out and rinse it well.
DON'T try to clean broken or damaged jewelry
Attempting to make broken jewelry look better with DIY cleaning is an exercise in futility—and it's likely to damage the piece further. Instead, place it in the capable hands of a professional jeweler.
Your source for inspirational jewelry and professional repair services
F. Silverman Jewelers is the go-to destination for residents of Bergen County, New Jersey who are looking for that perfect jewelry gift for a special someone. We're also proud to offer fine jewelry repair services, with free estimates available. If you need same-day service for a special occasion, we'll be happy to accommodate you. Call us today or stop by our store in Woodcliff Lake, New Jersey.