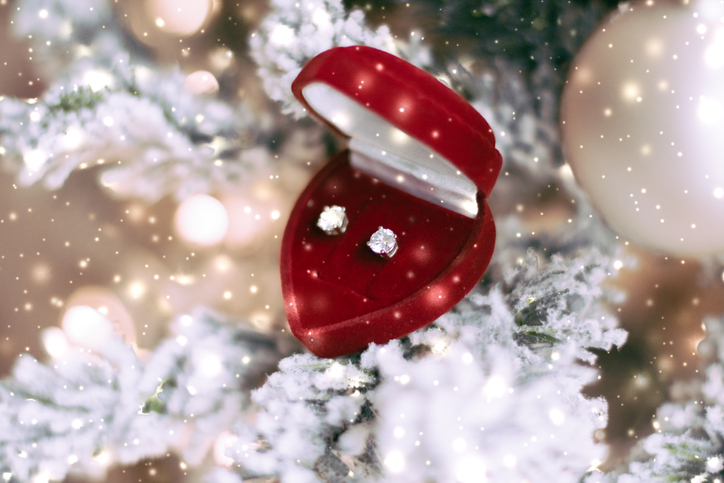 Jewelry sales have taken a serious hit during the COVID-19 pandemic. According to data from the NPD Group, jewelry sales between March and October of 2020 dropped by about 30% from where they were last year during those same months. It makes sense, as stay-at-home orders have left many Americans stuck at home in sweatpants, pajamas, and other casual wear. With few, if any, parties or gatherings to attend, hardly anyone is putting on their finest clothing – much less any jewelry. 
But jewelry seems to be making a comeback! With the holidays fast approaching, many are seeing gifts of necklaces, bracelets, earrings, and rings as a way to feel fancy and festive despite empty social calendars, give thoughtfully with other outlets unavailable, be romantic, or add some necessary sparkle in those frequent Zoom meetings.
Here are the top reasons why jewelry is a great gift for the 2020 holiday season.
Bring Festivity Back
With a year full of sweats and work-from-home attire, many people are seeing jewelry as a way to bring some fun and festivity back into their lives. In fact, an NPD poll reported that 54% of consumers said that they miss getting dressed up, whether for social events or even just to go into the office. What can make you feel more festive and glamorous this holiday season than a sparkling new piece of jewelry?
Plus, a jewelry gift can also be seen as an investment in future events, parties, and work once life goes back to normal.
A Lovely Alternative
Spa gift cards, vacations, tickets to shows or concerts, and other common holiday presents are simply unavailable this year because of stay-at-home orders, travel restrictions, and gathering limitations. Jewelry makes a lovely alternative to these traditional gifts as you don't need to leave the house or be in a big group of people to wear a shining new necklace or glittering bracelet.
All About Romance
One silver lining of the pandemic is how it brought people together, whether by fueling new romances or reigniting old sparks. Celebrate that new or newly revived love in the most classic way possible – with jewelry. Personalized or engraved pieces tell a love story in one of the most romantic and timeless ways possible.
Zoom-Worthy Sparkle
Just because the holiday parties are on Zoom doesn't mean you can't glow! Jewelry offers a chance for people to express themselves, no matter how small that box on the screen may be. Plus, brightly colored gems, glittering gold, and sparkling silver add a bit of joy and light back into these dark times.
Fine Jewelry from F. Silverman Jewelers
F. Silverman Jewelers in Bergen County has a gorgeous selection of pieces that would make wonderful gifts this holiday season. Come by our showroom in Woodcliff Lake to (safely) browse our exquisite collection and find the jewelry of your dreams, whether for yourself or for that special someone.