De-Aging with Jewelry in 2018
Your jewelry is an outward manifestation of your personality. But it should not define your age. Take a look at the tabloids featuring stars over 50. They are wearing fierce and fearless statement pieces that tell the world that age is only a number.
Put a ring on it
Celebrate hands that could tell thousands of stories. The next time you brush those fingers across your forehead, make sure they are clad in pieces that wind and snake in captivating patterns. Put on metals that lace together like a chainmail corset. Surround your fingers with statement pieces that attract compliments and spark vibrant conversation. Show off the playful wisdom only age can claim.
And sometimes, just stack. Try, for instance, multiple thin dainty rings in rose gold adorned with one tiny little diamond each.
Bind it
Bracelets that layer and intertwine add a bit of jingle, innuendo, and class. The wrist adornments of this year are mythical, bringing in calming, healing watery blues and greens. These stones are an embodiment of the goddess deep within you. Aquarian hues accentuate your aura and strengthen the wisdom emanating from it.
Go easy on the layering. There is a fine balance between ageless sophistication and one too many. Pair only a couple of chunky cuffs with some great rings, and a flawless manicure. Choose metals that speak to you as much as they speak for you. Remember, bracelets elongate your arms and make your hands look elegant. Exercise the freedom and confidence that only age can bring.
Drape it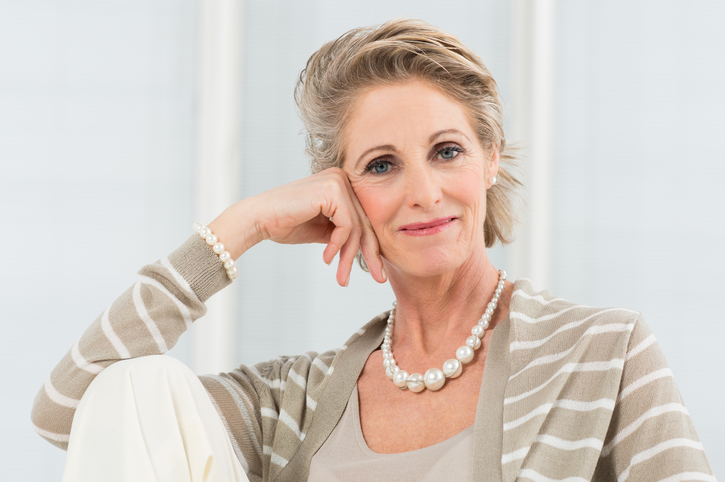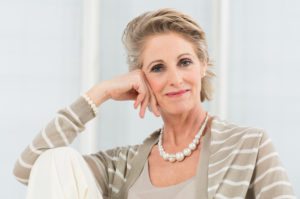 A well-chosen necklace can elongate the neck as well as add style to wardrobe choices. As we mentioned above, stones and fine metals are featured in the latest jewelry trends. Lengths for neck adornments are shorter this season, working in favor of the purpose of de-aging. Short statement pieces can help disguise areas of the décolleté that might be a bit crepe'y or sun damaged. Bling that pops and sparkles also casts light on the face and diverts attention away from damaged skin.
Dangle it
This season's earrings hoop, drape and cascade from the earlobe to the collarbone. It is important to choose light materials over the heavier variety to preserve the skin of those delicate earlobes. Earrings that are too heavy betray subtle evidence of aging due to a saggy appearance of the earlobe. If you do have stretched lobes, choose pieces that cover the area completely. Fortunately, the more dramatic earring styles of late not only add elegance and excitement to wardrobe choices, but they also frame your jaw and neckline. Small stones and bright metals direct luster onto your face and add vibrancy to the hair.
Putting it all together
Metals and stones resting directly on your skin will most certainly influence your mood and tell a story. As with all jewels, choose colors and elements that make you feel confident. De-aging with jewelry is empowering as well as enlightening. Your jewelry should be an embodiment of your personality, an extension of your wisdom, and an accentuation of your vitality.
Visit F. Silverman Jewelers in Bergen County, NJ. We offer a wide array of jewelry from top designers to suit every taste and style. Let us help you de-age with jewelry!