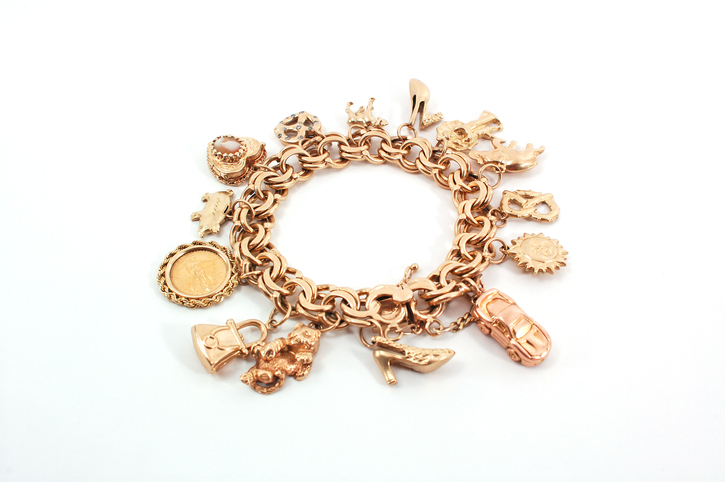 Yes, jewelry is decoration – but it's also a very personal expression of style, personality, and all the things that make every person unique. And there is no other jewelry that better embodies that expression than charm jewelry.
Playful, meaningful, and always fun, charm jewelry has been in style for a very long time. In fact, almost every generation has its own version. From men and women to children, ordinary people to celebrities, charm jewelry is and always will be in style because it's long been a part of the culture and because it offers endless possibilities.
Charm Jewelry Has Always Been Popular
Charm jewelry will always be in style because, as history proves, it's always been in style.
This unique jewelry form has been dated back to ancient Egypt when Egyptian men and women made elaborate charm necklaces, bracelets, and anklets out of precious stones that were carved to bless them in the afterlife. Egyptians also wore charm jewelry as protection against evil and the rage of the gods.
The practice continued into the Middle Ages when kings and knights wore amulets and charms to keep them safe in battle. Charm jewelry really became part of common culture in the early 20th century when Queen Victoria started wearing charm bracelets as decoration rather than practical or religious protection.
From bohemian-themed bracelets of the 60s and 70s to silver Tiffany and Pandora charm jewelry of the early 2000s, charms have only become more popular since!
The Possibilities Are Endless
Charm jewelry will also always be in style because it offers almost endless possibilities. Charms can be almost anything and can be used on any kind of jewelry, including necklaces, bracelets, rings, earrings, and more, which means that there will always be a way for them to remain trendy throughout the years.
Charms can be anything you want, such as:
Individual – Single charms range from lockets and family crests to small items that denote hobbies or passions like music notes, airplanes, globes, and much, much more.
Customizable – Date markers, picture plates, family crests, and lockets are wonderful customizable charms that honor a family member or mark a special moment in your life.
Novelty – Heading to Disney World on a family vacation? Attending a special sports event? Novelty charms are whimsical ways to make and hold onto memories.
Gemstones – Gemstone charms, like those made from birthstones, add color, personality, and symbolism to charm jewelry.
Symbols – Many people choose charms that have luck or religious symbolism. For example, a tree of life, four-leaf clover, or eye of Horus are all thought to bring the wearer good luck, while crosses, stars of David, and other religious charms are constant reminders of faith.
Find Charm Jewelry at F. Silverman Jewelers
Whether you're looking for – from fun charms that express style to meaningful charms that mark dates, passions, or love – F. Silverman is here to help. Our showroom in Woodcliff Lake is brimming with gorgeous charm jewelry in a wide range of shapes, sizes, and colors, and our helpful staff is ready to assist you in finding the perfect piece.
Stop by F Silverman Jewelers in Bergen County today to be a part of the never-ending charm jewelry tradition.