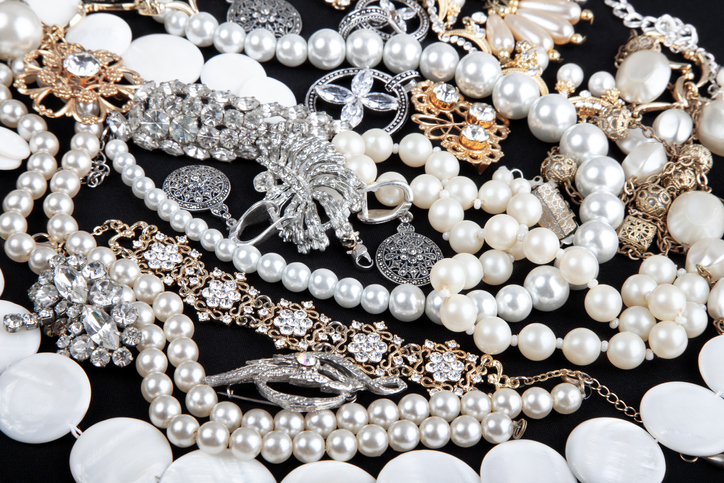 New Year's Eve is traditionally a night of glamour – sparkling dresses, twinkling lights, and, of course, glittering jewelry. This year, New Year's Eve might look a little different. To add some festive sparkle back into our lives, let's take a walk down memory lane and look back at some of the fine jewelry trends through the ages.  
The 1910s
Fine jewelry in the 1910s balanced the industrial boom of that same era. Designers took inspiration from nature, creating pieces that featured leaves, animals, and insects. Platinum also rose in popularity during this time because of production capabilities.
The 1920s
The Roaring Twenties was lavishness gone wild – stacked bracelets, long strands of pearls, and audaciously colorful costume jewelry all took center stage. The eccentricities of the era were also showcased in intricately designed geometric pieces set with diamonds, pearls, and colorful gemstones like rubies, sapphires, and emeralds.
The 1930s
The 1930s was the height of old Hollywood glamour, which meant that jewelry around the world strove to mimic the elegance of the movies. Filigree, bright colors, three-dimensional designs, and other bold choices moved to the forefront of style, with vibrant gemstones like emeralds and citrines rising in popularity.
The 1940s and 1950s
Diamonds were everyone's best friend in the 1940s and 1950s, popping up on every kind of jewelry from dress clips and bracelets to rings and brooches. Jewelry also became more feminine during this time, creating a need for full ensemble pieces in gold, platinum, and copper.
The 1960s
Unlike decades prior, the 60s brought about practical jewelry like cocktails rings, bangles, and princess cut stones with more durable materials, including crystal, plastic, milk glass, and non-precious metals. Simple and understated was the style, just like the then-popular Jackie Kennedy.
The 1970s
Disco fever! Individuality and international style were hot in the 1970s, leading to the popularity of pieces like large gold earrings, turquoise necklaces, coral bracelets, and lapis lazuli rings. Oh, and tons of rhinestones.
1980s
Big was the name of the game in the 80s – big hair and big jewelry. Multi-purpose pieces in gold were all the rage, as were large, fake, statement-making gems.
1990s and 2000s
Remember chokers? You can thank the 1990s for those. The same goes with silver, body jewelry, floral motifs, punk rock pieces, and male jewelry. The 2000s brought gold and silver back to equal footing and gave us hits like layered chain necklaces, cuff bracelets, and personalized jewelry.
2010s
Social media platforms surged in the 2010s, creating a desire for individuality that led to statement pieces coming back with a vengeance. Platinum settings, colored gems, and even vintage jewelry became popular in this decade.
Looking to the Future with F. Silverman
Where is fine jewelry going next? Only time will tell. But one thing is for certain – F. Silverman Jewelers in Bergen County will always have chic, elegant, and timeless fine jewelry options. We'll be putting on our finery before you know it, so come to F. Silverman Jewelers to find your next favorite piece of jewelry that you'll love for decades to come.