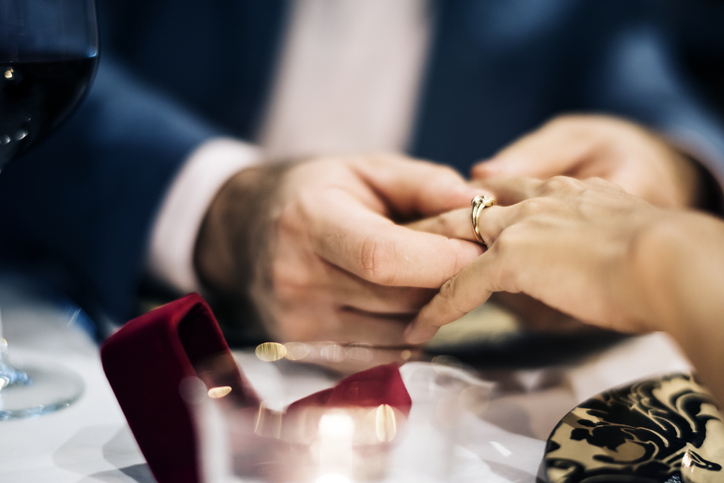 The woman in your life deserves the best. So, when Valentine's Day comes around, you want to give her something extra special. Everyone loves a beautiful bouquet of roses and a box of heart-shaped chocolates, but why not surprise her with a gift she'll remember forever?
Whether you're shopping for your girlfriend, wife, daughter, or mom, here are some touching Valentine's Day jewelry gift ideas to show her how much you love and appreciate her.
#1 – Personalized birthstone jewelry
No matter who you're shopping for, birthstone jewelry is a meaningful gift she'll never forget. Choosing a piece of jewelry with her birthstone can add a personalized touch—and she'll remember how much she means to you each day.
In addition, each gemstone possesses its own meaning, adding a beautiful sentiment to each piece of jewelry. For example, opal, the birthstone of October, is associated with creativity and confidence. Meanwhile, peridot, the August birthstone, is associated with harmony and good health. From stackable gemstone rings to eye-catching earrings, you can't go wrong with birthstone jewelry.
#2 – A stunning diamond tennis bracelet
If you want to take her breath away this Valentine's Day, look no further than our beautiful diamond tennis bracelets. Diamond bracelets feature a simple design, making them a stylish addition to any outfit. They're luxurious and elegant, and they'll never go out of style.
If your Valentine doesn't already own a diamond bracelet, consider choosing a classic style, like a classic round diamond and white gold bracelet. On the other hand, if your Valentine owns an extensive jewelry collection, opt for a more unique style with a different metal or diamond shape.
#3 – Diamond drop infinity earrings
Diamond earrings are a Valentine's Day gift she'll treasure for a lifetime. They're one of the most classic, timeless pieces, making them a great gift for birthdays, anniversaries, and special occasions. Earrings are also one of the most versatile pieces someone can own since they look as good at home as they do at a black-tie event.
Diamond drop infinity earrings are special enough to elevate any outfit but subtle enough to pair with other metals and gemstones. The best part? You won't have to worry about finding the right fit!
#4 – A beautiful custom-made engagement ring
One of the biggest surprises you can give your significant other is a proposal to spend your lives together. Valentine's Day is the most romantic day of the year—and it's the perfect day to pop the question.
There's no better Valentine's Day gift than a custom-made engagement ring. If you're searching for jewelry stores in Bergen County that offer custom jewelry, look no further than F. Silverman Jewelers. Our jewelry experts in Woodcliff Lake, New Jersey, can help you design a one-of-a-kind ring your partner will love for years to come.
Find the Perfect Valentine's Day Gift With F. Silverman Jewelers
This Valentine's Day, let the pros at F. Silverman Jewelers help you find the perfect gift for your special someone.
We have a premium selection of fine jewelry from every taste, from gorgeous diamond earrings to engagement rings in Bergen County. Our expert jewelers can also help you design a unique engagement ring with one-of-a-kind features to suit your significant other's style.