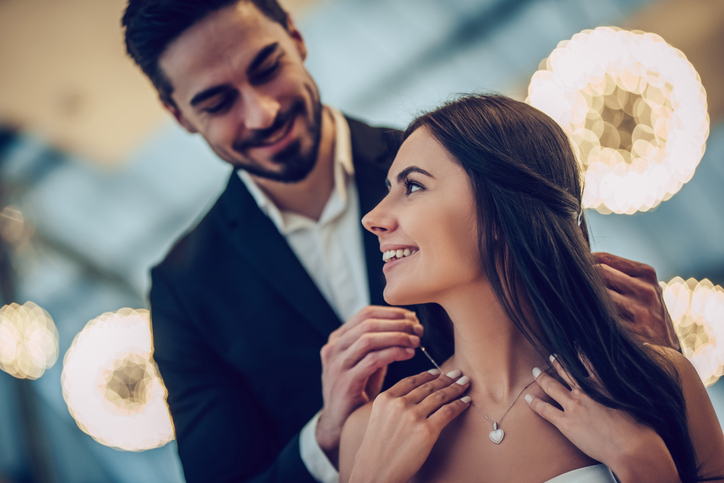 Jewelry and Valentine's Day go hand in hand, as the gift of jewelry is a beautiful and lasting way to show someone just how much you care. But how do you choose the perfect jewelry for your Valentine?
Understand Their Style
Everyone has a different jewelry style, so a gift choice for one Valentine might not be the right choice for another. Consider your Valentine's personal style. Does she like trendy pieces, or does she tend to choose more understated looks? Is he more traditional, or does he lean more towards bold pieces?
What Does the Jewelry Say?
Think about what you want the jewelry to convey to your Valentine. Some people choose a piece that is thematically all about eternal love, while others choose gifts that focus on a specific feeling like happiness or comfort. You can even add a literal message to the gift with a custom engraving.
Consider Use
Try and choose a piece that your Valentine will love and wear. While very expensive pieces are touching, many people aren't comfortable wearing them for fear of loss or damage. Also, consider what kind of jewelry your loved already has, or what he or she might need. For example, he won't get much use out of a watch if he already has several.
Popular Inspiration
While you should buy jewelry that suits your Valentine, it's never a bad idea to get inspiration from popular choices. Some popular Valentine's Day jewelry pieces are:
Dangle Earrings – Dangle earrings can be worn during the day or at night for special occasions, making them an ideal gift. Look for short and solid earrings if your Valentine prefers simple or traditional jewelry, and colorful or sparkly ones if she enjoys making a style statement.
Tennis Bracelets – Timeless and always stunning, tennis bracelets are a good choice for almost any Valentine. Be sure to consider what color and kind of stone you choose.
Watches – Men and women alike wear watches, so you're Valentine is sure to love and use a watch. Plus, there are thousands of different kinds of watches to choose from, allowing you to pick out the one that perfectly suits your special someone.
Birthstone Jewelry – A surefire way to personalize your Valentine's gift is to buy him or her a piece that showcases their birthstone. You can choose almost any kind of jewelry from rings and necklaces to bracelets to celebrate his or her birth month in a lasting way.
Handmade or Custom – Truly personal and unique, handmade or custom jewelry shows how much you care through the time and thought needed to create it.
Trust F. Silverman Jewelers
The easiest way to find the perfect gift for your Valentine is to shop F. Silverman Jewelers in Bergen County, NJ. Our beautiful showroom boasts a carefully curated collection of fine jewelry from top designers from around the world, and our friendly and expert staff are ready to help you find something special for your someone special.
From jewelry he will love to pieces she will wear again and again, trust F. Silverman for your Valentine's Day.