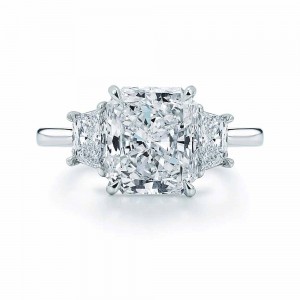 Will you be my Valentine?
Experts predict that some six million American couples will get engaged this Valentine's Day – a hallmark occasion for celebrating romance and all things love.  Cupid's arrow has inspired many a love-struck men to pop the big question on February 14, to the delight of sweethearts who have been dreaming, among other things, of their diamond ring.
Whether a spontaneous gesture or a meticulously planned endeavor, marriage proposals come in all shapes and sizes, from the traditional to over-the-top stunts that invariably become part of YouTube fame. For many brides-to-be, the engagement ring is not only a pledge of love, but a symbol of their partner's promise of commitment.
Valentine's Day engagement rings
There's a lot of thought and effort that's put into purchasing an engagement ring for Valentine's Day. Would she prefer gold, silver or platinum? What about the cut of the stone? While diamonds will always be a girl's best friend, a lot of non-traditional gals like a splash of color with emeralds, sapphires and other accent stones.  Talking to her closest friends is always a good start, but in the end it's important that you consider what she would buy, rather than your own personal preferences.
Here at F. Silverman Jewelers, we see more engagement ring purchases just before Valentine's Day than any other time of the year. And an increasing number of customers are snapping up rings that feature colored diamonds (think pink, yellow and chocolate) as accent stones around the classic, colorless diamond.
Engagement rings with accent stones aren't the only trends for 2015.
Others include:
Unique diamond cuts like asscher, cushion and emerald feature distinctive patterns that contrast the light and dark hues within each stone.
Rose gold engagement rings are praised for their subtle coppery glow that really complements the white tones of diamonds. Up until now, platinum and white gold had been the traditional favorites for engagement rings.
Diamond cluster rings are an elegant choice and often more affordable than a single diamond. Top designers have created lovely art deco and vintage estate collections that promise lots of sparkle.
Gemstones –Celebrities like Halle Berry and Kate Middleton have flaunted their gemstone engagement rings, which are very popular choices this year. Choose from pink sapphires, aquamarine, morganite, peridots, and garnets for a distinctive ring that truly stands out from the crowd.
Mixed metals – Want a unique symbol of your love? Look for engagement rings inspired by centuries old jewelry that utilize silver, peach gold and brass.
Fine jewelry in Woodcliff Lake, NJ
F. Silverman Jewelers understands the importance of finding that perfect engagement ring for your loved one. Not only do we specialize in high quality diamonds, we carry a wide selection of beautiful rings from top designers that capture the latest trends and styles.
But what sets us apart from other jewelers in the Woodcliff Lake, New Jersey area is our dedication to unrivaled customer service. We hope you stop by and discover our fine jewelry selection! We offer affordability and quality that Bergen County residents have come to trust. Visit us in store or contact us with any questions.