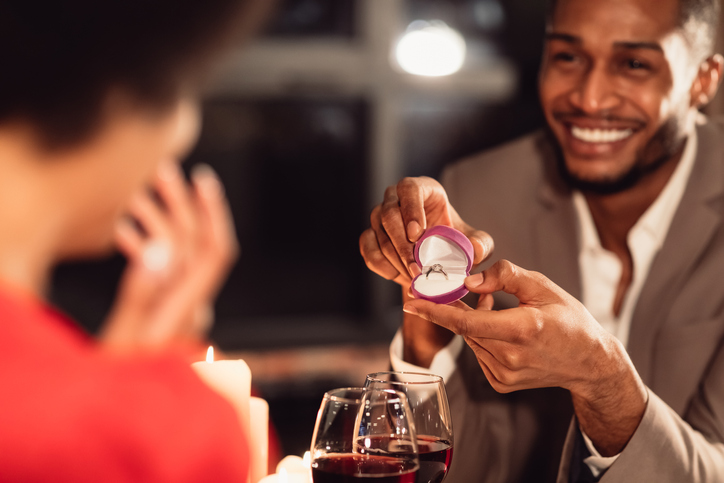 Valentine's Day is right around the corner. While the traditional celebrations from chocolates and flowers to romantic dinners and dates are always appreciated, some couples consider making their Valentine's Day truly one to remember with a proposal.
Cupid's big day might seem like the obvious or even cheesy choice for when you should pop the question, but these reasons why Valentine engagements are ideal say otherwise.
Forever Mine, Valentine
Valentine's Day is already one of the most romantic days of the year, so there is no more perfect day to get down on one knee. From dreamy decorations all around to potentially cozy winter weather, the ambiance is just right for the ultimate romantic gesture.
Tis the Season
"Cuffing season" refers to the period of time between Thanksgiving and Valentine's Day in which a lot of people couple up or get engaged. This might be because there's something special about getting engaged around the holidays. There's a general festive feeling in the air and emotions are already on high after spending quality time celebrating with family, friends, and loved ones.
Your Gift is Covered
Forget an expensive dinner, tickets to a show, or any other kind of Valentine present. Give your partner the most beautiful, memorable, and cherished gift of all time: the promise of your undying love. Plus, you won't have to worry about getting chocolates or flowers if you get your Valentine a diamond ring!
Engagement Anniversaries are Covered
Many people celebrate the anniversary of their wedding as well as the anniversary of their engagement. Proposing on Valentine's Day makes it simple to remember the additional anniversary, allowing you to easily wow your loved one with thoughtful, fun, or touching tributes to your engagement for years to come.
Numbers Don't Lie
Still worried your loved one might not want a Valentine's engagement? While you know him or her best, there are statistics that say otherwise. An online diamond retailer recently conducted a survey that found that 41% of married respondents would have liked it if their significant others had popped the question on Valentine's Day. That's a lot of hopeless romantics.
F. Silverman Has You Covered
Finally, a Valentine engagement is made easy when you shop engagement rings at F. Silverman Jewelers. Our stunning selection offers a range of engagement rings in a vast array of styles and stones, from classic diamond rings to more unique options. We've been helping couples find their perfect rings for more than two decades, and our expert jewelers are ready and waiting to help you do the same.
Wow your forever Valentine with an exquisite ring that captures her style and personality as well as your love. Now that you've got the perfect partner, visit our showroom in Woodcliff Lake to begin your search for the perfect ring for your Valentine's Day engagement.