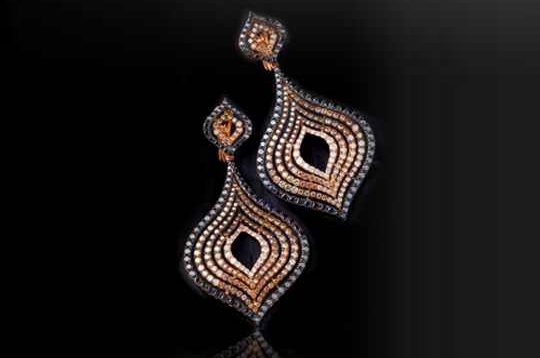 Valentine's Day jewelry gift ideas
This Valentine's Day is your chance to woo your sweetheart with a dazzling piece of gold jewelry. Available in a variety of alluring hues – including white, rose and yellow – you have to admit that rose gold is absolutely perfect for such a romantic occasion.
This feminine pink hue layers beautifully with white and yellow gold pieces, and makes for a thoughtful gift this February 14th. For a wide selection of gorgeous earrings, pendants rings and bracelets in rose gold, visit F. Silverman Jewelers in Bergen County, where we're currently offering 15 percent off your entire purchase now through Sunday!
Romantic rose gold jewelry
Rose gold gets its lovely range of delicate blush tones from a blend of copper alloy with yellow gold. The effect is a pale pink shade that lends a subtle, flattering effect to any skin type or coloration. In fact, women who feel they are limited to wearing silver or traditional yellow gold because of their skin coloring are often pleasantly surprised by the universal appeal of rose gold.
Nothing says "I love you" more than a classic piece of fine jewelry. Express your adoration this Valentine's Day with a rose gold bauble that she can add to her treasured jewelry collection.
Need some inspiration? We can help you find that special keepsake she'll cherish forever!
14 kt rose gold ball earrings — an everyday accent in a lovely romantic shade of pink
Rose gold pave bar bangle cuff – inlaid with white or colored diamonds, this stackable bracelet adds a touch of elegance to any outfit
Heart pendant necklace in rose gold – a sweet sentiment and beautiful way to celebrate enduring love this Valentine's Day
Personalized rose gold pendant necklace – emblazoned with her initials or a tender message
Gemstone and rose stone band – add some whimsical color to her jewelry ensemble with this trendy rose gold bangle
Triple twist ring – featuring 14 kt rose gold, diamonds and yellow sapphires, this statement ring symbolizes the circle of life
Classic hoop earrings in rose gold – she'll sparkle and shine in this timeless pair of hoop earrings, perfect for casual or formal attire
Rose gold and morganite diamond ring – A magnificent peachy morganite centers this cocktail ring for a glittering showpiece that will garner attention.
Rosey heart stud earrings – perfect for a daughter, this adorable yet budget-friendly set of earrings gives a modern twist on the traditional heart design
Circle silhouette ring in rose gold – A simple yet sophisticated accent piece
Valentine's Day jewelry in Bergen County, NJ
Some of the industry's top jewelry designers have turned to the becoming blush tones of rose gold, which has recently experienced a major comeback in fashion circles.
Find the perfect jewelry gift for your sweetheart this Valentine's Day at F. Silverman in Woodcliff Lake, New Jersey. Print your 15 percent off coupon here!