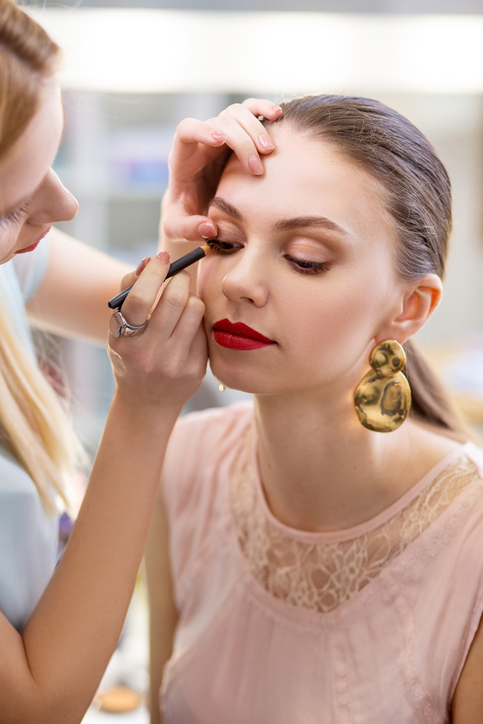 Makeup and jewelry are finishing touches that help tie your entire look together. Both can draw attention to a certain area or highlight your best feature, and both add interest and personality to an outfit. What happens when your makeup and your jewelry work together?
Matching jewelry and makeup can create true style magic, helping you stand out from the crowd and show off what makes you, you. Here are tips on how to match makeup and jewelry so you can look your best and feel your most confident.
Color Wheel Inspiration
Remember the color wheel from elementary school art class? This tool isn't just for children's watercolor paintings – it can help you match your makeup and jewelry perfectly.
When you're matching your jewelry and makeup, you don't always want to think in terms of actual matching. Of course, blue earrings and subtle blue eyeshadow work, but you can also think of complementary contrast, like on the color wheel. On the color wheel, complementing colors are directly across from one another, like yellow and purple and red and green. This contrast might seem too harsh, but it works. For example, if you're wearing clean, white pearls, you should pair them with a dark eyeshadow as white and black are complimentary.
Go Beyond Color
While using color to match your jewelry and your makeup is beautiful, you can also try matching them in other ways. For example, it's always stylish to highlight jewelry details with makeup. Try wearing a bold, sparkly diamond necklace and adding lots of sparkle to your cheeks with highlighter or glitter to your eyes with eyeshadow or eyeliner. Or if you're wearing a bracelet with an ocean theme, bring hints of the sea into your makeup with subtle blue eyeshadow and mermaid-esque pink lips.
Consider Undertones
As a general rule, there are three main types of skin undertones: neutral, warm, and cool. When matching makeup and jewelry, be sure to consider your undertone in order to make sure your look is cohesive and doesn't clash with your skin.
Cool metals, like silver, white gold, and platinum, look best with cool skin. Cool metals also look best when paired with makeup that also has cool undertones, such as rose pink, baby blue, or pastel green. Metals like bronze, copper, and gold pair excellently with warm skin undertones, as do earthy, warm makeup colors like mocha, camel, olive, and bronze.
Play with different undertone pairings to find the metal and color combination that works best with your skin.
F. Silverman Jewelers Has a Wide Range of Fine Jewelry
F. Silverman Jewelers offers Bergen County the best in fine jewelry from world-renowned designers. Whether you want to match cool metals with your cool undertone or are hoping to find a colorful red ruby necklace to match your green eyeshadow, our expert jewelers are happy to help you find your ideal piece.