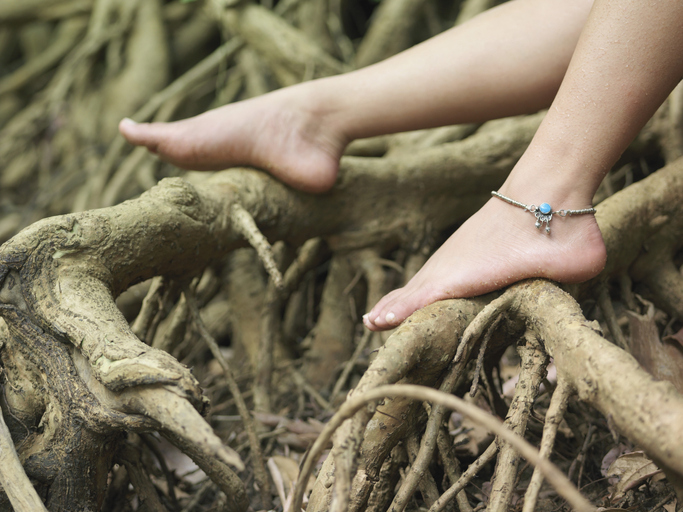 Ankle bracelets, most often referred to as anklets, have bedazzled the ankles of both men and women alike for centuries. Silver or gold, chunky or delicate, sparkling or subtle, anklets have been worn and enjoyed by many different cultures and civilizations all across the globe and throughout history.
Ancient Egyptian Elegance
We've long associated ancient Egypt with luxury and opulence, so it makes sense that the Egyptian women of long ago adorned their ankles with anklets.
Both wealthy and poor women alike wore anklets. The women of the lower social classes wore simple anklets fashioned out of string, leather, or even carved out of wood as they believed the jewelry would bring good fortune and good luck. The upper-class women of ancient Egypt wore anklets to show off their social status. The wealthier the husband, the more opulent the anklet. The highest-ranked women tinkled with every step as their elaborate anklets were made from precious metals and gemstones.
In India, Anklets Are Much More Than Fashion
In India, anklets are both fashion pieces and signifiers of marital status. It is tradition for married women to wear anklets finished with charms so family members and other men know that they are spoken for and should be treated with the respect deserving of a married woman.
To this day, anklets are one of the most common and traditional gifts for Indian brides as they will not only get plenty of use but are also believed to bring good luck to a new wife and symbolize a long and happy marriage.
Young, unmarried Indian women and girls also wear anklets to symbolize pride, though they are unadorned as fitting their marital status.
Anklets in America
It took until the mid-1900s for anklets to make their way across the ocean and into Western culture. In the 50s and 60s, some Frank Sinatra fans were titled "Bobby Soxers" for their signature look of anklets worn over white bobby socks. The trend gained even more traction in the 70s with the advent of bohemian, flower-child style, and has continued to grow in popularity ever since.
Anklets are still incredibly fashionable and coveted by women all around the world. These chic pieces make excellent gifts but are also ideal for treating yourself to a fun and fresh new accessory.
F. Silverman Jewelers in Bergen County has a large collection of anklets for you to explore. Whether you're searching for a simple piece of silver or gold, a bold beaded statement, or a versatile yet personalized engraved anklet, we will make it easy for you to be a part of this long and stylish jewelry tradition.
Our experienced and welcoming staff are waiting to help you find your perfect piece. Visit our showroom in Woodcliff Lake today.